At The Motorhome and Caravan Show hundreds of people sign on the dotted line & hand over their deposits to buy their very first campervans. Like me, many of them will have got the bug when they first hired a van.
And this article is all about helping you if you're thinking about hiring a campervan, to make sure those first trips go safely and smoothly.
Why Spaceships ?
Spaceships have been hiring out campers for a long time & has always prided themselves on their staff, along with its award-winning fleet of vehicles & design.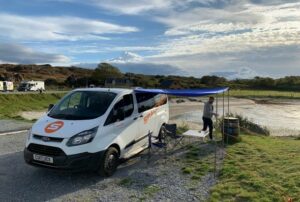 Being the ONLY campervan, motorhome and car hire company in the UK offering 24 hours a day, 365 days a year pick ups and drop offs was just the first step.
Having the right people able to help customers select the best vehicle for them, the best places to visit and ensuring their time on the road and the booking process was as easy as possible was just as important.
For excellent deals on
Campervan rentals

click on the link –
So lets have a question & answer session to get you the right information.
Start with the basics, who can hire a campervan?
Anyone with a full UK driving licence. Between the age of 21( with a years experience and 70 is the rule of thumb. We can extend above 70 if we contact the insurance company, it is purely an insurance issue. There are some issues with driving larger campervans, with the type of licence you have – but these this kind of size, the Ford Transit based ones, you're ok with a normal UK Licence. Yes even the long wheelbase still falls into the same category.
And that's because it's not over a certain weight?
Correct. So that is all fairly straight forward.
And what about the insurance & rental costs. How do you sort that out when you're hiring a van?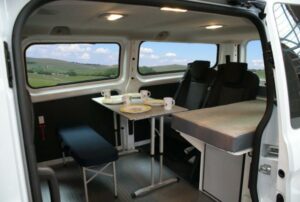 We pride ourselves on having a no hidden costs policy for our Campervan and Motorhome hires.
All Spaceships hires come with:
Up to 4 drivers at no extra charge
UK and European insurance
Per day options to reduce the excess to £0 that are capped for longer hires
All cooking equipment
UK and European breakdown cover
Unlimited Miles
All applicable taxes

Don't Forget The Wine

Conveniently located depots. Open 9am – 4pm, 7 days a week
On-road phone support 24/7 through Roadside Assistance with third party.
Roadside emergency kit -a legal requirement for driving in Europe
Free travel advice from our knowledgeable Spaceships team
The hire company will sort out the insurance.You don't have to do anything yourself. We sort it all out.
Can you hire a campervan all year round or is it seasonal ?
It is year round. We have got heating systems in them as well so you can use them all year round.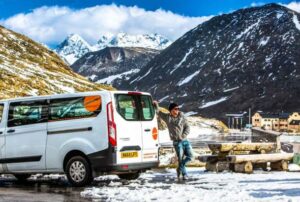 We find that in the summer it's more families – obviously akin with the school holidays, but then obviously this time of year we get more senior clientele, who will go off one or two, three weeks to the North of Scotland or wherever.
Winter is a great time to see the UK.
The crowds are gone and there are good deals on campgrounds and activities to be had.
At Spaceships, we believe our vehicles are great for all weather. We have warm bedding and have extras available such as fan heaters and extra bedding available for our campervans. The vans heat up really quickly, so you are warm & cosy, whatever it is doing outside.
And where can you go with them?
Anywhere you like, within the UK, is on the normal insurance. If you want to take it off shore, to Europe, there is a small premium to pay on top of the hire fee. But anywhere you want. We can help with ferry crossings & touring ideas.
What about to UK or European Festivals ?
It depends on the festival, but where they have a campsite available or nearby then yes you can camp at that festival.
Have a look at these awesome music festivals in Europe of which most of them offer camping spaces. Just make sure to check whether you need to purchase a separate campervan / camping ticket or if it's already included in your festival ticket.
A Spaceship is perfect for festivals as they are classified as a (camping) car and not as big motorhomes. They're easy to drive around and it'll save you heaps of money. Plus, you'll have your drinks and snacks in the fridge orstorage, a gas cooker and everything to refuel yourself before partying hard again.
Oh and all your belongings are stored safe and secure in a
Spaceship.
What about pets ?
After overwhelming demand, we're delighted to say that we've now got a dog-friendly fleet of vehicles for 2020!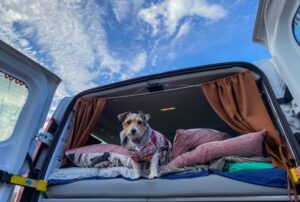 You can take your well-behaved dogs on your Spaceships road trip at an additional cost of just £10 per day (minimum charge £50) to cover additional cleaning and valeting. (There may be an additional charge of
£200 in the event of excessive cleaning or damage.)
Please bring your own food and water bowls. Make sure you have an upto date pet passport if you are planning to go to Europe.
What are they like to drive ?
We have kind of dealt with the hiring of them but obviously driving one these can be a very different experience if you're used to a car. But what sort of advice do you give people who are perhaps used to a normal car and then they find themselves hiring and driving one of these for the first time?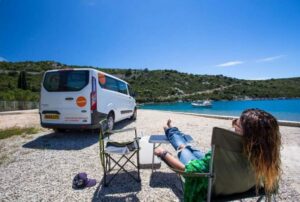 To be fair with one of these, a short wheelbase, is no larger than a normal estate car. They're five metres long so they're not out of the way in terms of size.
The only thing I do say to people is obviously be mindful of the height. They're under two point one metres so you will get into most car parks. But obviously be mindful that & if you're in doubt, get someone out to watch you in.
But other than that they're very straightforward to drive and most people come back preferring these to drive than their own vehicle.
What about speed limits with these?
They are as your car. All our vehicles are classified on their V5s as van/ with side windows or motor caravans. So you're good to do 70 in a 70, 60 in a 60 and that kind of thing and they're more than capable of doing that. They will cruise at motorway speeds all day long with ease.
Is there a Hand Over ?
So when you hand over one of these vehicles to someone what sort of safety procedures and warnings do you give them before they head off to the hills?
Everyone, irrespective of whether they have had one before or not gets at least a thirty minute handover, starting with the location of the mains hook up, to the gas regulations.
It is important to take it steady to start with, because obviously it is a different vehicle to what they're used to. The obvious things to remember are, never drive with the glass lids up on the appliances & everything has to be put properly away with all lockers closed properly. But other than that, they're fairly straight forward to be fair.
Most common question ?
And in all the time you've been hiring vans out to people, what are the most sort of common things that either people don't think about or appreciate or get a bit caught out by ?
I think the most common one is that they expect the three-in plugs to work even if they're not on mains hook up. Even though they're told – they often forget. But other than that, most people find them fairly straight forward.
For excellent deals on
Campervan rentals

click on the link –

How do you see this year for Campervan rentals ?
People & families are definately looking at staycations. To have everything you need all in one vehicle, with the freedom to go anywhere that you want to is really appealing. We are getting a huge ammount of interest & bookings.