A motorhome water hose is a must have accessory. Wether you are on a site or touring & staying in "Aires" to have a proper food grade hose used just for your motorhome or campervan is a basic necessity.
Why Bother ?
You might hear people say, "I just use containers to fill up the tank", why have the hassle of a hose ?
I do have two 20ltr water containers, but I also have 2 proper motorhome water hoses, because ;
To keep lugging 20 ltr containers around & then have to lift them up above waist height to get to the filler point becomes a boring & heavy chore, very quickly. One year I strained my shoulder & really struggled to get the container high enough.
If you are paying for a fully serviced pitch, it is stupid to keep having to fill up containers & tip them into the tank.
On a lot of sites with shared water points, it is very simple to connect your water hose & fill up simply & quickly.
Using the water service point at an "Aire" quite often you wait for your turn to empty grey & black tanks, as well as fill up your fresh water tanks. With your motorhome correctly positioned & with the water hose connected, the tank can quickly be filled as the others are emptied. You are then soon on your way. To start messing about filling a water container half a dozen times, does not impress other motorhomers.
How Long is Yours ?
It is really down to your own personal choice, where you go touring & the storage space available in your motorhome.
I personally carry 2 hoses, a 10m & a 20m that can be joined together, which has been required on various occasions.
Storage space is not a problem & I like to have the choice of only needing a short hose on a fully serviced pitch or Aire water point & having some serious reach on a regular site with shared water points.
How Much ?
30m food grade blue hose is £30 – £35
A hose connector set is £8 – £15
20m flat food grade with connectors is £35 – £40
2 Great Food Grade Motorhome Hoses
This is a quality food grade motorhome hose, that is 30m long.
Simply cut the hose to lengths that suit your needs best. As I said I carry this hose cut to 10m & 20m lengths. You could have 2 x 15m lengths or any option that suits you best.
With my hose connector kit, I then have the options of 10m, 20m or 30m, which will pretty much guarantee that you can fill your onboard water tank from any water point.
The two lengths are easily managed to coil up & stow in your motorhome lockers.


Food Grade Flat Hose
This 20m food grade flat hose, comes with connectors & simply unwind from the easy to carry, storage reel & connct to the nearest water point.
When your water tank is full, just disconnect the hose, make sure all the water is emptied out by laying the hose out straight & wind up the hose onto the reel.
Light simple to use & easily stowed away just about anywhere when not needed.

Hose Connectors ?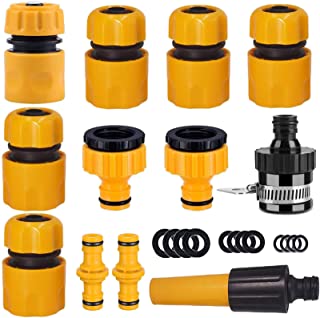 A hose connector kit allows you to connect your hose to just about every campsite water point & also allows hoses to be joined together if extra lengths are needed.
As I said earlier, I tour with a 10m & 20m hose in my motorhome, that can both be joined together.
This comprehensive kit has everything that you need. The tap connectors will fit just about every water point out there & it even comes with a clamp on connector to fit your household kitchen tap.

Why Food Grade Hose ?
Hoses made of polyurethane are the safest.
100 % lead free
BPA free
Made from UV stabilized FDA and NSF grade polyurethane
You can choose stainless steel or chrome plated lead free brass fittings option
Can be used with hot water
Test conducted in 2016 showed that it is a truly non-toxic hose
In standard garden hoses, Lead is used as a stabilizer or pigment in the tube, especially in yellow and green hoses, which are practically everywhere. Lead is a potent neurotoxin that especially affects children. Newer hoses, purchased since 2007, when a lawsuit led by California required labeling on hoses, might be lead-free, although Consumer Reports testing in 2011 still found lead in new hoses. Read the full article here- Food Grade Hose is-your-garden-hose-toxic
So for a matter of a few pounds difference it's a no brainer, when it comes to "food grade" hoses or a garden hose.
Normal Hose or Flat hose ?
I have had both types over the years & the blue food grade hose is very good quality, long lasting & easy to coil up & stow.
I do have a lot of storage space, so I don't have to consider that, but for you that maybe different & a flat hose on a real maybe a better option. A couple of things to remember though with flat hoses, they are made of a lighter material & are more prone to splitting. They have to be completely uncoiled to work, so if you have a 20m hose on a full service pitch or you are filling up at a service point on an Aire, then you have to layout 20m of hose, even though you only need 5m. To get a flat hose to go back onto its real, the hose has to be completely empty of any water.
A regular hose can be used coiled up, so they look neat on a full service pitch & are quick & easy to coil up & put away.
When you are all set up on pitch with your awning out & you just want to sit back & realx with something cold, the last thing you want to do is have to put everything away & drive off to a water point or have to get your water container out & start humping water around just to fill your tank. Which ever motorhome water hose you choose, it's great just to be able to connect it to the water point tap, stick the other in the motorhome filling point & let the water do it all by itself.