Why would you bother looking for the best motorhome windbreaks? Well, you are all set up on your pitch, relaxing with a well earnt glass of something & a chilly breeze comes along, taking the edge off the day. If you had a simple & easy way to block the annoying breeze, life could go back to perfection.
When Would I Use It ?
I have a wind out awning & safari tent, so do I really need a windbreak ? The simple answer is yes.
Safari tents are brilliant & effectively give you a whole room outside, as do drive away awnings. They do take a bit of setting up, especially safari tents & so for short stays, when touring around they are not that practical.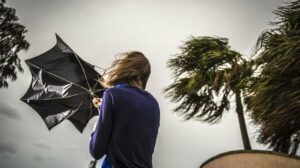 Also I like to be out in the sunshine or under the shade of my awning & not be so enclosed. Sitting under the awning as the sun sets, is great as it stops the dew landing & with my chiminea, it stays warm.
UNLESS there is a cooling breeze & then all of the above scenarios, are not so pleasant.
A simple windbreak, set up to block the annoying breeze, now seems like a very good idea.
So What Different Windbreaks Are There ?
There are three basic designs, click on the links below to go directly to the windbreaks
Airframe – Simply peg down & pump up the fast inflating tube frame.
Aluminium frame – horizontal poles, top & bottom & rigid vertical support poles
Poles & guy ropes – slot together metal poles supported by gut ropes & pegs.
All of these types of windbreaks come in options of 3 panels & upto 5 or even 6 panels.
How Much ?
Prices vary, depending on the size, quality & design of the
windbreak. But to give you an idea of what you should expect to pay;
Airframes, expect to pay £300 to £500 plus
Aluminium frame expect to pay £ 200 to £ 300
For a poled awning expect to pay around £50 to £100
Air Frame Windbreaks
Kampa
The world's first inflatable windbreak. Simply peg and pump, never has a windbreak been easier to set-up!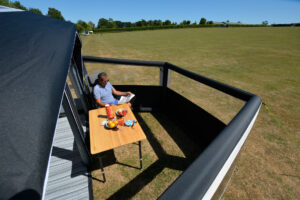 Utilising our unique AirFrame system with single point inflation, the AIR Break Pro is surprisingly sturdy in the wind and its striking colour combination and use of Weathershield Pro material make it a great match for our AIR Pro awnings. A window panel runs throughout the windbreak allowing visibility out.
The AIR Break Pro is available in 3 and 5 panel versions. The AIR Break Pro 3 is designed to fit awnings between 200 to
330 cm wide and the AIR Break Pro 5 is designed to fit awnings between 330 to 500 cm wide.

'Feel the Difference' double coated Weathershield Pro polyester Comes with strong carry bag and pegs Crystal Clear horizontal panel.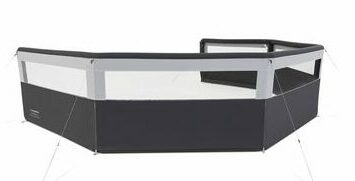 The AIR Break Pro can be used free-standing or connected to the front of our awnings to create a fully enclosed area – great for keeping dogs in!
All in all an excellent windbreak. Kampa have some superb products in their extensive range & this Air Break is no exception. Yes it is pricey, but it is also quality & as with everything, you get what you pay for.

Leisurewise
Airbreak 8000 windbreak is both quick and easy to assemble. All you need to do is inflate it via one of the inflation points which will inflate the entire windbreak in a matter of minutes.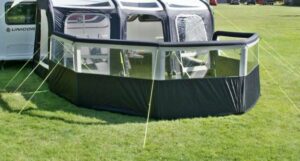 This windbreaker features 5 panels that give up to 8m in length, providing plenty of protection from any direction.
Anchored in place by easy-to-see hi-vis guy lines. Made from durable waterproof material with 3000HH. Stylish design. Compatible with most awnings. Single inflation point.
Dimensions: L 8m x H 1.5m

Maypole
Maypole's 3 panel multi point inflation windbreak provides both privacy and protection from the wind. The sturdy airframe is quick and easy to inflate by using 4 air tubes. The windbreak includes 3 large PVC windows to give light and a clesr view Midway peg points to keep your pets safely inside.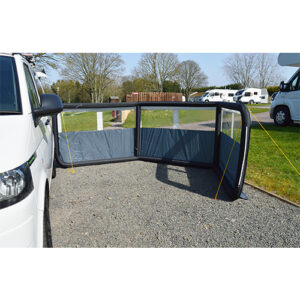 Hand pump, guy ropes, pegs and a compact carry bag are all included.
This windbreak measures 500cm in length and 140cm in height.
Each panel can be positioned to your choising allowing you provide effective sheltering against the wind.
If you are barbecuing in the summer, then the windbreak is a great for  cooking  efficiently in any breeze!

5 panel air windbreak, provides privacy    and great protection against the wind.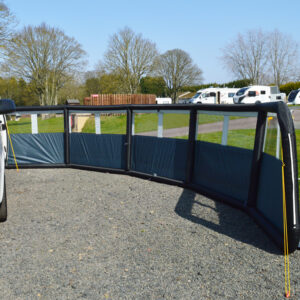 Single point inflation makes it quick and easy to inflate.
The material is 150D Oxford Polyester which is lightweight and weather resistant. As well as UPF 50+, flame retardant and 600mm hydrostatic water resistance.
The windbreak can be fitted to both sides of an awning rail (which can be fitted to any motorhome) , as well as having mid way peg points for extra security. Comes with highly visible guys and pegs are provided.

Aluminium Frame
Windshield Pro
The Windshield Pro is lighter, more expandable, more secure and more stable than its rivals.
It has a patented frame system that has been designed with one job, to do the job & do it right every time. One of the patented parts are the connector at the top of the leg support poles. This simple fitting firstly locks the leg support pole in place, it also strengthens the top bar of the windshield making it stronger against the wind and even helps stop the bars moving in the wind.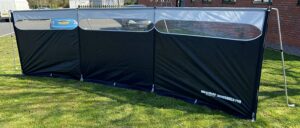 Windshield Pro can be slid into an awning channel (which can be fitted to any motorhome) allowing you to come directly off the vehicle.
The frame system locks itself in place making it easier to erect and more sturdy when in use. A unique frame system means no guy lines are required and the entire frame system can be placed on one side of the windshield ensuring you have absolutely no trip hazards and you get to use 100% of the available space.
It can be extended with a door, an additional panel and now a weather shade giving you an amazing amount of options. The Windshield is designed to go right down to the ground and with its additional pegging points held down making a secure and safe place on the inside, perfect for pets and children.
The new Expert Edition features the new super sleeves / dog guard, which gives you better connection to the ground. Sleeves act as a mud wall and draught skirt giving you better draught exclusion. It allows you to use additional top
cross poles (purchased separately) as a dog guard feature.
The dog guard feature creates a solid bar across the bottom of the panel ensuring your pet cannot push the material out of the way as it is held firmly in place with the
solid aluminium bar.
This bar can also be used to help anchor the windshield to hard ground. It allows you to use ladder bands or elastics (purchased separately) to form additional pegging points that can be used easily and effectively even on hard ground.

KAMPA DOMETIC PRO
DELUXE ALLOY 3 PANEL WINDBREAK
Quick and easy to set up the Pro Windbreak gives vital protection from the wind as well as allowing you to help "Stake Claim to your pitch". Made in the same Pro material as the Kampa pro awnings so that it complements as well as being a hard wearing awning it is supported with adjustable support bars.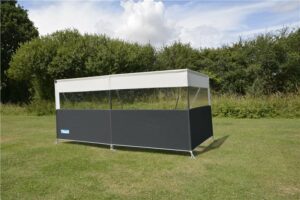 The Pro Windbreak is the perfect addition to your awning. The full aluminium frame is lightweight and corrosion-resistant. Connect multiple Pro Windbreaks together using figure-of-8 strips to create a larger protected area, and enclose the area with zipped access using the Pro Windbreak Door – ideal for pets.
The windbreak provides a level of privacy but the Crystal Clear transparent panels mean that you're not cut off completely. 'Feel the Difference' double coated Weathershield™ Pro polyester Flame retardant and UV stabilised Adjustable steel
support poles No need for guy lines.
Comes with strong carry bag and pegs
Crystal Clear horizontal panel Height 142cm Length 460cm Pack Size 100 x 13 x 13 cm Weight 8kg
Specifications
Outer Weathershield™ 150D Pro Polyester, 6000mm with taped seams
Pack Size 100
x 13 x 13cm Product Weight 6.54kg
Poles x4 Aluminium Poles Carry Bag Yes Type
of Tent Windbreak Length 460cm Fabric Weathershield® Pro Polyester
Product Code
CE7440 Height 142cm Pack Size 100 x 13 x 13cm

KAMPA DOMETIC PRO
DELUXE ALLOY 5 PANEL WINDBREAK
Updated 2018 model, with aluminium poles. Quick and easy to set up the Pro Windbreak gives you vital protection from the wind. Made in the same Pro material as Kampa's Pro awnings and supported with adjustable support bars, makes this windbreak very sturdy and durable. The windbreak provides a level of privacy but the crystal clear windows mean tha you're not cut off completely.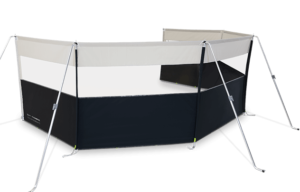 The Pro Windbreak 5 is a 5 section, 7 pole windbreak. 'Feel the Difference' double coat Weathershield™
Pro polyester Adjustable Aluminium support poles, no need for guy lines Comes with strong carry bag and pegs Crystal Clear horizontal panel Dimensions:
L 765cm x H 142cm. Pack Size: 100cm x 15cm x 15cm. Weight: 14 Kg.

Mega Granite
This magnificent model comes in two enormous versions: 4 sides and 6 sides.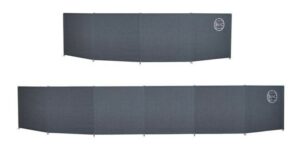 They will both do a perfect job in protecting you and your family from the wind when you are relaxing on a campsite, or during your caravanning adventures. You wil be able to enjoy this comfortable outdoor space almost instantly as both sizes of Mega Granite are very easy to assemble.
This is the 4 PANEL version
The windscreens are made of strong Acrylic material which is wind proof. This material is also long-lasting. The Acrylic material will keep the windscreen's lovely granite colour  and prevent it from fading thanks to the pigmentation method.
Windscreens come with Zinox MegaFrame poles for the highest possible strength, stability and durability in the most inclement weathers. It is a tubular steel frame (material thickness: 32mm/1.2mm) with welded corners and MegaFix on the poles.
MegaFrame is designed for year-round use with a full awning which can remain standing all year and can withstand most powerful
storms, snowfall and torrential rain. Zinox MegaFrame is made of 4 layers:
Moreover, this brilliant windscreen comes with Stabilo System Mega which ensures full stability. This double base (see photos) allows you to join two Megasteel windscreens by simply hammering an extra spike into the ground.
Joiners
If you wish to join two windscreens, you can buy a separate top connector, which prevents your windscreen from gaping at the top. (NB MegaSteel and Stabilo System Mega cannot be purchased separately as they do not fit other windscreens.)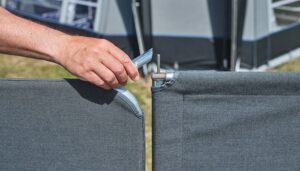 A brand new optional extra is available with Mega Granite: a windscreen GATE. It will provide you with full flexibility and comfort when exiting and accessing your wind-free relaxation area. It is made of the same materials as the windscreen
itself; granite acrylic, Mega Zinox Frame with 120cm height (and 80cm width).
It is compact  when stored and only 3.70 kg
Mega Granite comes as standard with:
Mega Frame Zinox poles (including rafter poles)
Guy ropes
Pegs
Stabilo System Mega
Features:
Sides: 4
Dimensions: 4 sides: 460 x 120cm
Weight: 4 sides: 9.5kg
Materials: Acrylic
Poles: Megasteel
Colour: Granite

Poles & Guy Ropes
HIKEMAN Camping Windbreaks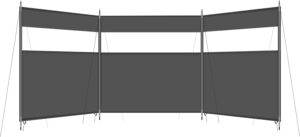 300D lattice Oxford PU coating Material. There is a choice of three colors: black red wine and Beige. protecting you from the elements. protectyou from the wind. Our Camping Windbreak can help keep your skin safe and help you avoid getting too hot.
Our High quality windbreak gives you privacy at your campsite. The windscreen is perfect for setting up a private cabana or a campsite. Packs Down compactly for easy storage.
You can also look through the PVC window across the full length of the windbreak, so you can have a clear view outside the shielding area, and you can also monitor your children well.
Perfect for any outdoor activity.Use it for a fun day at the beach, or a picnic, a camping trip!
Package: windproof ropes*8+ iron nails*12+1.3m iron poles*4 (in total 12 sections)(Any color in black,red,gray) +windbreak*1 +storage bags*3(Different sizes). This windbreak packs down to a compact size, which makes travel easy.
I personally have this windbreak & I think it's great. If you set it up right, it does what it's suposed to do. Good quality & at the price, I'm more than happy.

HSS Wind Screen Windbreaker
This Brand new design is the Windbreaker preferred by most Campers. This Breaker has both end panels designed as in this image Outdoor Wind Blocker Portable Comes in colours so If Blue or Grey. Very light so you can take anywhere Outdoor Wind Blocker Portable.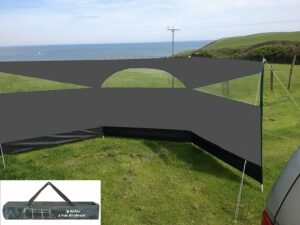 This 3 panel 4 pole windbreak is a sturdy standalone shelter from the wind on any campsite.
Supplied with guy lines and steel pegs, it offers much needed protection from the elements.
It also comeswith a carry bag for easy transportation.
Poles fold into 3 Total length of bag is 53cm
Unit Weight: 1.5 kg
Hang Tag 3 panel windbreak with window Size 500 x150cm
4 re-enforced poles 6 x 2m guy lines, 6 x 6″ steel pegs Pack With carry bag

OLPRO Outdoor Leisure
OLPRO Compact Windbreak with transparent panels perfect for added privacy and protection from the elements.
Each pole is broken down into 3 sections which easily clip together and slide into the windbreakfabric sleeves. Guy ropes and pegs included.
Please note: These Windbreaks do not need to be hammered into the ground like wooden pole windbreaks. The plastic spikes only need to be pushed into the ground by hand and the guy lines provided will keep the Windbreak upright.
Each compact steel poles is made up from three individual pieces, which connect together to form one
long pole.
The  full length poles have a spike at the top and one on the bottom, the spike on the bottom is for lightly pushing into the ground, and the one on the top is for hooking your guy ropes on.
They're very easy to break down and fit compactly into a small carry bag.

Would I Get One ?
Simple answer – Yes I bought one & I think they are great. The difference that a windbreak makes, when sitting outside is huge. The difference with the windbreak whilst sitting outside under the awning in an evening is immeasurable.
Whatever your personal preference or budget, you will love the benefits that your windbreak brings.
Thanks for reading & I hope you found this article helpful.