Most motorhome owners have some kind of an awning, to give shade from the sun, when it's hot & to get out of the rain, when it's not.
Why Bother With an Awning ?
If you use French "Aire's" all the time, you know that you can not use an awning at all. So that makes that side of the argument fairly straight forward. If on the other hand you use your motorhome in any other way, then any kind of an awning is a fantastic accessory to have. An awning can effectively double the amount of living space that you have & makes it usable whether it is hot & sunny or when it's wet. So which motorhome awning do you need ? Well let's have a look at the different awnings availble on the market today. In hot climates the awning makes a huge difference in keeping the motorhome cooler & with a safari tent fitted it makes a huge difference in keeping the motorhome warmer, in winter weather.
Fixed Wind Out Awnings.
There are basically two main companies to choose from, when it comes to wind out awnings & both have a wide range of awnings to suit all applications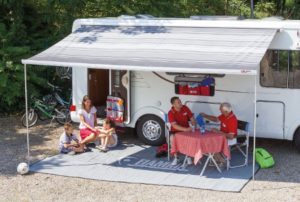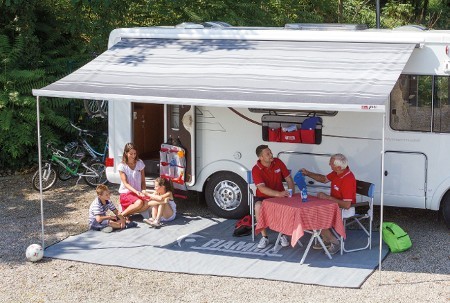 Fiamma Has a range of 7 different models, with size options & different features in each range. They have awnings for campervans through to awnings for RV's with slide outs. There is a choice of colour either Royal grey or Royal blue & features. As well as the standard manual wind out awning, there is a 12 volt motorized awning option. The top of the range is motorized & free supporting with no need for supporting legs.
Thule Omnistor
Has an awning range of some 90 manual awnings, 36 motorized awnings with a fixeds witch 12 volt power
supply & a further 30 motorized awnings withremote control & 240 volt power supply.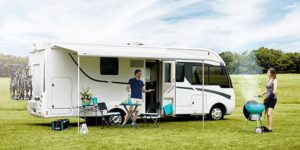 Thule motorhome awnings are designed to fit your vehicle and your requirements.
Just choose the ideal type, size, cassette colour, fabric finish and features!
No matter what awning you have, don't forget the all important AwningCarpet.  This covers the ground under the awning, making it dry, clean & comfy to walk on. They are an absolute must have accessory.
"Safari" Tent / Long Stay Tent
The traditional awnings are great, you just them wind out & either get some shade, or it keeps the rain off, you can then use the full "safari tent " which encloses the awning & makes it more like an additional room. They are really useful if you are going to being staying put for a while.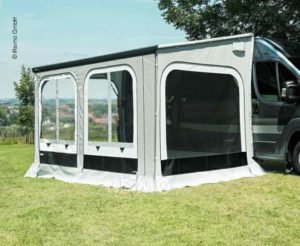 They are generally made of the same heavy material that the awning is made off. So, when correctly assembled they form a pretty sturdy structure.
They consist of a main front panel with door & windows sliding into the awning lead rail & 2 side panels with windows, connecting to the awning & the sides of the motorhome, you quickly create a water-resistant room.
The door & windows obviously open, for access & ventilation.
The only downside of the heavy material is that when folded away, they are quite bulky, so do take up a lot of storage space & there is also a bag for the supporting poles.
The pole bag & safari storage bag for an Omnistor 5200 Awning are over 1.2m in length, so you do need a decent locker or garage for it.
I personally do have one of these safari tents, but I also have a Burstner 747 2active, with a load of storage space for it. When I have been stationary on a pitch in the winter, it is a very good piece of kit to have.
It is very sturdy, bone dry & creates a lot of space. Just to be able to walk into it when its pouring down & have somewhere to put your wet coats, shoes & broli etc, then open the motorhome door with no worries of the lashing rain soaking the interior, is a god send.
One item that is an absolute must is an awning carpet. This covers the ground under the awning, making it dry, clean & comfy to walk on.
There are basically two main manufacturers to choose from, when it comes to wind out awnings with safari/ long stay tents.
Fiamma has a large size range of safari tents, that fit not only their own awnings, but also fit some of the Omnistor awnings. They come in white & grey, with the front panel being interchangable so the door & window can be on either the left or right
Thule Omnistor have 2 options of safari tent, the Panorama, which as the same suggests, has windows all around giving panoramic views & the Residence, which to me looks very similar, but you have the choice.
Each option has a large size range of sizes & again they have a choice of colours, coming in black, white, greys, etc.
Short Stay Tents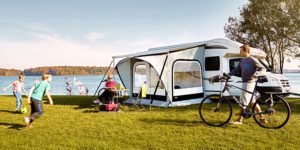 The new lightweight fixed poles or air awnings are completely different from safari tents, being designed for use on short stay trips in warmer/calmer weather.
They are though made of very strong, but light weight tent material & are very easy to put up. Made from innovative Ripstop fabric, a light woven and tear-resistant material & use lightweight poles or inflatable tubes to support the tent.
This new style of awning is much more like a camping tent that is attached to your motorhome awning rail. Most have an opening door, windows sections that roll up to open the space. Some also have hook up internal sleeping sections, which can be great for kids & additional guests alike.
These tents are in one piece and take only 15 minutes to set up. Slide it in the motorhome rail or an additional rail below your awning cassette and fix it to the awning lead rail. In this way, you can now enjoy a double roof, which offers great insulation from the sun to keep the tent and vehicle cool. The side windows are fitted with a mosquito mesh.
The main awning companies of Fiamma & Thule Omnister again feature highly, as their respective short stay tents are designed to fit onto their awnings. They again both have a range of sizes to suit.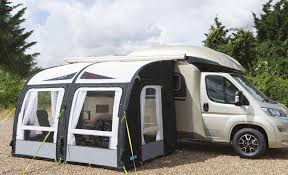 There are a number of other manufacturers that make short stay tents, so there is a large choice to suit all needs, requirements & budgets. So it's worth having a look at what is available from ;
Kampa – Suncamp – Vango – Outdoor Revolution.
These 4 have a large selection of styles, colours, features & sizes. Being universal in design, they will fit to the wind out awnings that we talked about.
The all also have a wide selection of awnings to fit campervans.
The short stay awnings are generally smaller than the safari tents, due to the lighter material & construction not being as robust in bad weather.
Drive Away Awning Tent
These awnings are designed to do exactly as the name suggests. They are basically the same as the short stay tent, but have what is called a rear tunnel. This can be connected to your motorhome by using a drive-away kit to connect to an awning rail or the front channel of any wind out awning.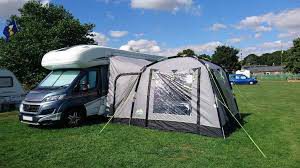 It can also be attached with webbing straps being thrown over the vehicle, but this is obviously only for use on campervans & isn't really practical for motorhomes.
Drive-Away Awning tents can be set up in minutes and if using the air design they are easily inflated, usually through a single inflation point using a high volume pump supplied.
Optional 12v electric pumps are also available for the ultimate of ease.
Once set-up the awning provides plenty of space for furniture and other equipment as with all awning tents. But when you want to drive off site in the motorhome, nothing has to be stowed away, as the awning tent remains as a stand alone structure, like any standard tent, as the tunnel section is simply disconnected from the motorhome.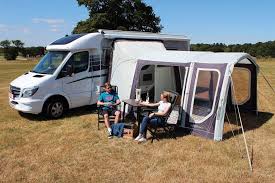 Again companies such as Kampa – Suncamp – Vango – Outdoor Revolution have a large selection of styles, colours, features & sizes. Being universal in design, they will all fit to the Fiamma & Omnister wind out awnings.
Are They Worth The Expense?
Very simple to answer. Yes, 100%. With my Burstner 747, I have been in Southern Spain where without the shade from my awning it would not have been possible to sit outside during the day.
I have been up in the Italian lakes, where in the evening the awning, plus tent makes it pleasant to sit outside, as the air becomes cooler & moist. I have been in the Alpine Ski resorts where my full safari tent was an absolute necessity, providing a warm sheltered area to keep all the gear safe & dry. It also keeps the heat in the motorhome when you have the door open.
They can cost from a few £100 up to £1000's. But whatever your budget is, you will not regret spending it on these absolute must have accessories.
Thanks for reading & if you have comments or questions, feel free to leave them below.