The last thing that you want, whilst touring in your motorhome is to have a tyre blow out at any kind of speed. That is why a motorhome tyre pressure monitoring system is a great accessory to have.
Just to have a flat tyre is bad enough.
Under-inflation is one of the leading causes of tyre failure. If the tyre pressure is too low, too much of the tyre's surface area is in contact with the road, which increases friction.
Increased friction causes the tyre to overheat, which can lead to premature wear, tread separation and blowouts.
You never want to have the misfortune of a tyre blowout. It really can be a matter of life & death !
So What Do I Need ?
A TPMS – Tyre pressure monitoring system, constantly monitors your tyre pressures & alerts you as soon as there is a change. This gives you the chance to pull over & get it sorted out, before any major failure happens.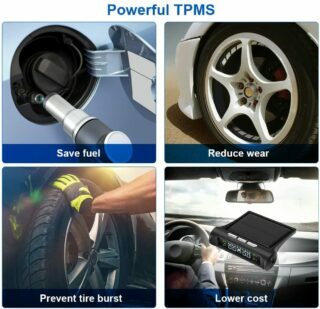 The most common form of tyre pressure monitoring systems have a display unit and four valve stem caps. These small caps fit onto your tyre valves as a replacement for your dust caps, except that they're equipped to read the pressure pushing on the valve from within the tire.
The pressure is measured in the same way as any manual tyre pressure gauge. TPMS anti-theft design tyre valve caps typically mimic the styling of OEM dust caps & have a locking nut so that they can't come loose or be stolen.
Are They All The Same ?
When you look online you will see loads of Tyre pressure monitoring systems that look good. BUT it is only when you get right down into the details do you see the maximum working pressures are too low for motorhomes.
Most of these systems are only for cars & the sensors are not rated & can not cope with the increased tyre pressures needed for motorhomes.
The average car tyre pressure is 30/35 psi or 2/2.6 bar
The average motorhome tyre pressure is 55/80 psi or 4/5.6 bar
can monitor pressures up 87 Psi or 6 bar !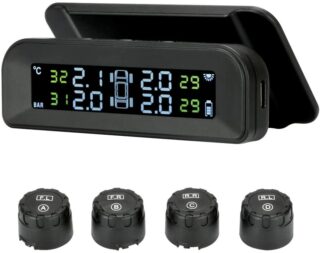 Intelligent tyre pressure monitor can be placed on windshield or on the dash board, you don't need lookdown when driving, it doesn't block your vision and saves space.
Easy to see big screen whilst driving, with a buzzer to alert the driver. With wireless transmission technology, it will warn immediately when the sensor detects abnormal tyre temperature or pressure. TPMS is suitable for a tyre pressure range up to 6 bar.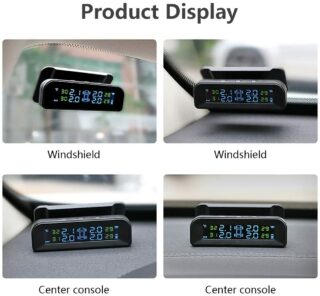 With built-in solar panel and usb port, the TMPS monitor can be charged via USB or in daylight. This ensures that the tire pressure monitoring system will work continuously.
Accurate data, real-time display. Fast air loss alarm / slow air loss alarm, high pressure alarm, high temperature alarm, sensor fault alarm and sensor battery low power alarm, ensure safe driving.
Wireless transmission design and 4 cap external sensors make the tyre pressure monitor easy to install on your vehicles, no need to remove your wheels & disassemble tyres.


Elikliv TPMS Tyre Pressure Monitoring System With 6 External
Sensors Wireless Solar Power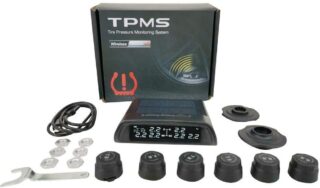 This system is for anyone with a Tag axle motorhome or twin wheel rear axle, requiring 6 sensors. Displaying Real-Time Pressure and Temperature
8 bar – 116 psi – If you have a really big motorhome, this system will work for you.
Features:
Solar Power & USB Charging: The intelligent wireless system with dual charging of the lithium battery ensures that the tyre pressure monitoring system will work continuously.
Suitable for 4-6 tyres: Real-time monitoring the temperature and pressure with high degree of accuracy. Simultaneously monitoring up to 6 tyres and can automatically change the data, on the high resolution high definition LCD display.
Precise Sensor Connection designed for better, more stable and accurate signal transmission. Lightweight design for sensor for easy installation. IP5K4K Sensor waterproof grade can withstand the worst of any weather conditions.
RF wireless technology can be set to auto-alarm when any tyre pressure and temperature is abnormal, with two pressure units "PSI- BAR " and two temperature units "℃ -℉" you have the choice of your preferred option.
The system helps fuel economy and provides even tyre wear by showing balanced tyre pressures across all 6 wheels, which will also ensure safer driving.


What To Look Out For In Whatever System You Go For.
Easy Installation
Depending on which type of tire pressure monitoring system you choose, the best TPMS products should be easy to install. Valve stem caps that read your tires' pressure only take a few seconds to screw on. When you have your tires replaced or rotated
and balanced, the tire technician can easily add in a TPMS service for clamp-in tire pressure monitoring systems.
Easy-to-Read Head Unit
Manufacturers with the best tyre pressure monitoring systems make their displays easy to read and understand. Whether you have four transmitters or more, each reading should be clear in terms of the pressure & temperature of each tyre as well as where that tyre is located in relation to the rest of the vehicle.
Accuracy
The best tyre pressure monitoring systems should give you accurate readings. Otherwise, it is a waste of time & money. They shouldn't give false readings or error reports. You want a unit that reads the pressure correctly the first time without you having to struggle to make sure it's working correctly.
Multiples Modes
The simplest of tyre pressure monitoring systems will only display a psi pressure reading for each tyre. The best tyre pressure monitoring systems will also include a variety of modes that tell you much more. Typical modes include a choice of high-temperature warnings in either C or F and a fast leak alert, along with your basic high and low-pressure warnings in either psi or bar.
Durability
Like anything else that's going to be mounted to the outside of your vehicle, you want your tyre pressure monitoring system to be durable. That means it can withstand wet and dry conditions, the heat and cold, and all types of additional wear and tear. The
best tyre pressure monitoring systems are made from strong materials that prioritize utility over curb appeal.
Would I get a Motorhome TPMS ?
Yes, absolutely. They are very simple to fit & do no damage to the interior of your cab, no drill holes in the dash board. You don't even need to remove the wheels to fit the sensors. You can still use your motorhome wheel clamp with the TPMS sensors in place. With solar & USB charging your not messing around with batteries. I have a tag axle motorhome & had a tyre blow on the first rear axle & it's not fun. Anything that makes your touring safer & at less than £50, it's a no brainer.