Just because you are out & about in the great outdoors, it doesn't mean that you can't enjoy a TV show or watch a movie. Where ever you may wander, you need to take a 12 volt tv with you. 12 volt televisions for motorhomes allow you to watch your favourite show, movie or catch up with the news anywhere & any time. Wether you are upgrading an outdated TV or have a new motorhome & want to get a television or two, keep on reading to see some of the best TV's available today.
What is the Difference Between a 12 Volt TV vs. Regular TV
The main question is why do we need 12 Volt TV for motorhome? Why not use a regular TV ? The straightforward answer is, standard TVs are not designed to withstand road stress and shocks of being driven around, particularly on rough roads & the 240volt power required means that you can only, really watch the TV if you are using "electric hook up" or if you have a generator.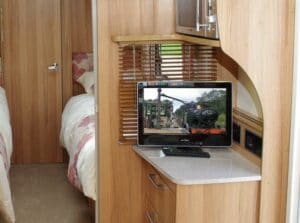 A 12 Volt TV is the most convenient and portable television that can be used without the need for mains/domestic power.
They are specifically developed to provide a seamless on-the-go watching experience for when you are in your motorhome.
By powering directly from your leisure battery, you don't need any extra power source.
For a motorhomes leisure batteries, power consumption is always a main concern.
I have 2 12volt Tv's in my motorhome & with both of them on at the same time the do not even draw 2 amps. A 12 volt TV uses far less energy to work, as compared to standard TV. If you have a proper solar panel charging kit for your batteries, you will never run out of power for the Tv,
There are other things that make 12 Volt TV different from a regular domestic one:
Internal framework of 12 Volt TV is strengthened, that secure the TV onto the mounting bracket
12 Volt TV's can cope with severe shocks and bumps, due to its vibration testing.
12 Volt TV resists and secure against intense humidity and temperatures, due to its test of rigorousness.
Regular TV may cause a short circuit, if you turn it on in a high humidity or high temperature enviroment.
These TVs are also known as DC/ AC TVs, because they can be work by using both 12volt and mains electricity.
Which size 12volt TV is best for your Motorhome?
Space is a priority in motorhomes, so there's not a huge living area or wall space  to mount a large LED TV of the same size that you would have at home.
Also, keep in mind before choosing any 12 Volt TV for your motorhome, you may have a much shorter viewing distance between you and the TV.
The right size depends on 3 things:
 Motorhome Space: Before choosing, have a look at available space in your motorhome. There must be a suitable area or an empty/ plain wall to mount of place the TV.
 Position: Take into account, whether you are expecting a fixed mount or a temporary one. If you have the capacity to   swivel it, so you do not need a TV as big.
 Price: Always keep in mind, the bigger the TV, the pricier it is going to be.
For motorhomes the most common sizes are from 19 to 24 inches. This may sound small, compared to what you have in your house but inside your motorhome, it will appear much bigger.
Best 12 Volt Televisions for Motorhomes :
If you're looking for the best quality & best value for your money, then lets have look at the latest 12volt televisions for  motorhomes. They are great value for money, with amazing picture & sound quality, plus the convenience of having a built-in Wi-Fi, HD satellite decoder, Tuners, HDMI, etc.
                                     Avtex
Avtex has been the trusted name for mobile leisure specific TV in the UK for over 25 years. Their dedicated team design all their televisions with the mobile user in mind. Avtex have proven reliability & are renouned for excellent sound & picture quality & a second to none customer service department.

AVTEX 219DSFVP 21.5 Inch TV
Through a satellite dish or aerial, the new AVTEX 219DSFVP allows you to watch HD TV without an extra decoder box. This 12volt TV is ideal for touring, due to its Avtex unique AQT one button simple tuning (mobile specific feature). You can scroll forwards and backwards 7 days programs through built-in Freeview Play's unique TV guide.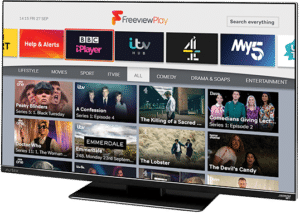 This Avtex 219DSFVP comes with a Kuma Wi-Fi Hotspot Booster Kit + Antenna.
A 3 Year Comprehensive Warranty.
Removable table top pedestal, Remote control, Instruction Booklet, Mains AC power cable, and 12V/24V DC power cable.
Key Features:
240v AC / 12v/24v DC
Ultra compact edge-to-edge design
Programme guide of 7 days backward and forwards,
Wi-Fi built-in for extra channels and connected services,
DVB-S & S2 digital HD satellite tuner
DVB-T & T2 digital tuner,
Built-in HD satellite decoder
Battery Indicator:
By a single touch on your remote handset, you can easily view your battery's condition, as Avtex TV has incorporated an Intelligent Power Management System.
One Button Tuning:
The one button tuning system, AQT helps you to re tune your TV to receive local transmitter (all available Radio & Television stations).
Internal 12v Circuitry: This TV has an on screen alert of low voltage (low battery), when operating on 12 or 24 DC power.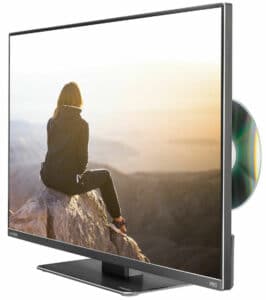 Power Options: This smart TV will be a valuable part of your motorhome, as it is built to stand with DC power fluctuations, and it can easily power by main AC of 12/ 24/ 240 Volt.
Freeview Play: With this new feature of Freeview Play, give you free access to 95% of the nation's most popular shows.
Kuma Wi-Fi Hotspot Booster Kit + Antenna:
Due to this Kit, Avtex TV is a new standard in mobile entertainment. Through Antenna, you can easily use outside's Phone Company's internet inside your motorhome.
By insert any Simcard, this kit allows you to unlock all network and share the internet connection to computers, iPads, tablets, or smart phones.

 Avtex 279DSFVP 27 inch TV
If you love luxury of large screen entertainment, the new Avtex 279DSFVP 27 inches is perfect for you. Through satellite dish or aerial, you can connect your TV to the internet; also you can watch extra entertainment on High Display Television.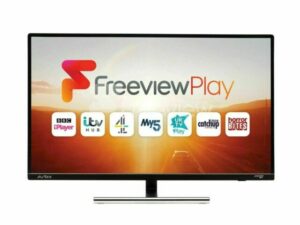 This Avtex 279DSFVP comes with a 3 Year Comprehensive Warranty, Removable table top pedestal, Instruction Booklet, Remote control, Mains AC power cable, and 12V/24V DC power cable.
Key Features:
240v AC / 12v/24v DC
Ultra compact edge-to-edge design
On-screen battery meter
AQT
Programme guide of 7 days backward and forwards,
Built-in Wi-Fi for extra channels and connected services
Built-in HD satellite decoder
Warranty is provided by the company (3years) just to ensure great value for money and a long product life .
Other Features:
For use with Dishes, there's a built-in Digital Satellite Tuner (DVB-S & DVB-S2).
For use with aerials, Digital Terrestrial Tuner (DVBT & DVBT2).

Freeview HD and Play: With Freeview, this product gives you free access to the nation's most popular shows, plus many on-demand free play (UKTV Play, My5, All4, ITV Hub, and BBC iPlayer).
With crystal clear sound, this TV has an edge to edge frameless design that properly immerses you in the action/ play.
When you are not connected to the internet, this product helps you to enjoy your show with its Built-in Wi-Fi.
This 27 inch stylish, sophisticated TV is ideal for both your home and large motorhome due to its battery and mains power operation.

 Avtex L249DRS PRO 24″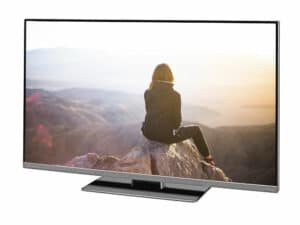 An Ultra-wide Avtex L249DRS Pro 24 inch LED TV is a new design from series 9 of the Avtex's Hallmarks.
You can easily record a different channel to the one that you are watching, a perfect design for your Mobile life.
Key Features:
12/ 24v DC power, 240v AC power
HDMI, ARC, CI socket for access for pay TV's
Co-axial audio-out/ audio in/ headphone/ phono/2 x USB/ HDMI
Timer record from a programme guide
Live TV/ Instant record to USB
Pause/ playback
DVD/ CD player
HD built-in for both satellite and terrestrial channels
Digital Satellite Tuner & Digital Tuner
Ultra compact EDGE-TO-EDGE frameless design

A complete audio/visual system all in one.
Twin Tuners: With built-in DVB-S2 and DVB-T2 tuners, this PVR/ DVD/ LED TV allows you to watch your Favourite HD programs, alongside help you to record others on a USB stick.
AQT and IPMS: It has an on-screen battery meter to indicate the low voltage and an AQT feature for tuning the local transmitter.
Power Options: It has Satellite signals and Freeview, also operate on 12/ 24/ 240 Volt power.
CD/ DVD player: This PRO TV also has a built-in CD/ DVD player and Digital Radio.
Digitalis Kit: It comes with a free USB Stick (8GB)  AVTEX, a microfiber cloth, and Fluid with a free handy screen cleaning set.
                                     Cello
Cello Electronics products are manufactured on a specially developed production line based in the UK.  Their TVs are assembled to exact specifications  to make sure that every single Cello TV is produced to the highest standard. They have a large range of sizes, all packed with great features, providing a complete entertainment package & value for money.
Cello 24 Inch C24230FT2S2 LED TV/DVD
This Cello C24230FT2S2 24 Inch is a modern and super slim HD DVD player and LED TV, which operate from a single remote control.
Without needing any external box, you can easily watch your favourite Tv with its built-in satellite tuner.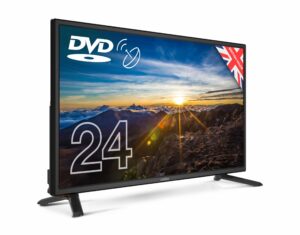 Through the HDMI input, you can enjoy a high-quality viewing experience.
This LED TV was firstly supplied for home use, but due to its optional 12v adapter, it becomes ideal for use in motorhomes and campervans.
It comes all complete with everything you need : 12v adapter, TV Stand, 2 AAA Batteries, Quick Start Guide, Remote Control, Power cord, C24230FT2S2 LED TV and 12months warranty card.
Freeview T2 HD: This 24 Inch LED TV has capabilities of Freeview T2 HD channels. You can enjoy digital content with this feature.
DVD Player: It is minimizing in space while maximizing in entertainment and enjoyment, due to its built-in DVD player. The player locates on the product's right side and operates along with regular TV.
USB Input: It gives you the facility to connect with external storage devices, such as similar products to your TV, Mobile Phones, and Personal Hard Drives. It also gives you the facility to pause and record live TV shows/ plays.
HDMI Input: It gives you the facility to connect gaming consoles (Xbox One, PS4, and PS5).
Features
24" HD Ready widescreen LED TV
Built-in Digital HD Freeview Channels
Built-in satellite tuner
Built-in DVD player
USB – record digital TV and play media files from other devices
HDMI input for your external devices and consoles
Comes with a 12 volt adaptor
Can be wall mounted (100mm x 200mm bracket not included)
16" Full HD LED 12 Volt Digital TV with Built-in DVD player
A super slim Freeview T2 HD. Brilliant for small motorhomes or campervans or for an extra in your bedroom. Packed with convenient features including DVD player, Freeview T2 HD channels, and built-in satellite tuner in one neat unit with a single remote control to operate everything.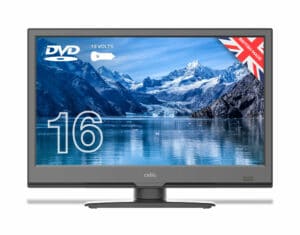 The built-in satellite tuner allows you to watch all your favourite shows without the need for an external sat box. The USB input lets you record other digital TV channels & watching downloads from your computer. Enjoy an HD viewing experience when connecting games consoles and other external devices via the HDMI input.
Features
16" Full HD LED TV
Built-in DVD Player
Built-in Freeview T2 HD channels
USB – record digital TV and play media files from other devices
HDMI input for your external devices and consoles
Comes with a 12 volt adapter
Can be wall mounted (bracket not included)
                                     Ferguson
Ferguson defies the industry norm by striving to develop and manufacture technologically advanced consumer electronics products. This includes LED TVs and a wide range of essential accessories. Quality product with great customer service.
Ferguson F32F 32 inch LED/ DVD TV
This Ferguson F32F 32 Inch wide-screen HD LED TV is made according to the need of travelers. It has a Built-in satellite Tuner (DVB-S2), DVD Player, 12-volt power adapter, and Freeview HD facility.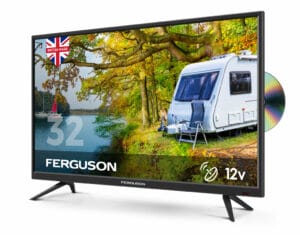 This 2020 model has separate power cable options, for use whilst traveling or at home. It also has an incorporated voltage regulator–a perfect large LED TV for your motorhome or caravan.
RECORD, REWIND, PAUSE: You can easily record, rewind, and pause live TV by connecting a USB storage device
12V: This TV has an adapter for 12 Volt.
HDMI: This input is to connect your external devices for playing free console games.
USB 2.0: You can easily record play media/ digital TV files through USB 2.0 device.
Freeview T2 HD Channels: This feature gives you the facility to free access to the nation's maximum number of channels.
Built-in DVD Player: Without any external box, you can easily watch your favourite shows/ plays.
Built-in Satellite Tuner: It gives you the facility of a satellite dish and minimizes hassle.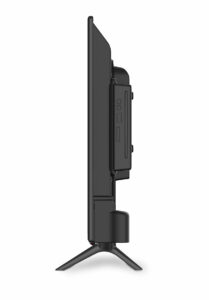 FEATURES
32″ HD Ready LED TV
Integrated DVD player
Freeview T2 HD Channels
HD Ready
Built-in satellite tuner for all free to air channels (DVB-S2)
USB 2.0 – record digital TV / play media files
Two HDMI inputs for your external devices
12-volt power adapter included
A great television if you have the space. For a large motorhome this is a really good screen size.
Great

Ferguson

online deals by clicking on either of these links.
So are 12 Volt Televisions for motorhomes worth it?
These portable 12volt TVs are your all weather travel companion; you can watch your favourite movie or play, when and where you want. .
12 Volt TV is the most convenient and portable television that can be used without any mains power. these TV's are specifically developed  for motorhome & can cope with the vibration & general rougher use than a normal tv could handle.  These TVs are also known as DC/ AC TVs, because they  can operate  using both battery power and on electric hook up.
Benefits of a 12 volt TV in your motorhome?
They are portable and can be easily installed in a vehicle.
They offer excellent picture clarity (clear and crisp picture) and great sound quality.
They are compact and lightweight.
They have excellent signal capturing capability.
Capability to handle input of video devices (game stations) etc.
Easily mountable on walls, shelves, and counted tops.
Wide viewing angle.
Space saving and Strong framework/ design.
Resistance of temperature and humidity.
Resistance of vibration and shock.
Low rate of power consumption.
So Can it be used in your own home?
All in all, the answer is yes! The latest 12 Volt TVs for motorhome have a capability to work or operate on both 12volt and mains electricity. All these three: Avatex, Cello, and most especially Ferguson at 32″ screensize can be taken out for use at home when your not using the motorhome.
Now that you know more about 12 Volt Tv's, go & get the best one to suit you & your motorhome. If you want to get the best money can buy, check Avatex for the high-quality 12 Volt TVs for motorhomes. Cello is user-friendly, in use and setup & gives a good quality entertainment package at a reasonable price At last, if you want to save some money, then Ferguson is the most affordable 32″ scree, has the same great features and has a good picture quality.
I hope this article helps you in choosing the right television for your motorhome.