Caravan towing mirrors are extended mirrors that fit onto a cars existing wing mirrors. They are a MUST have accessory !
Why Do You Need Them ?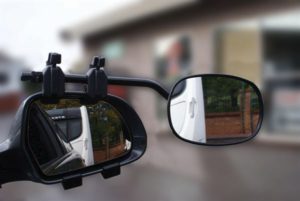 Caravans are wider than road cars & so with the original mirrors, the driver can no longer see each side behind his vehicle. As towing mirrors extend further than the original mirrors, they give back to the driver the ability to see each side behind the car & caravan.
To be compliant with the law, anyone towing a caravan must be able to see 20 metres behind them and 4 metres either side of the towed outfit.This is the LAW & you must not tow a cravan without them.
In order to meet this requirement, almost all vehicles will need additional towing mirrors. If you can not adequately see behind you, it makes any turning on standard roads or motorway lane changing, incredibly dangerous. Plus there is no way that the caravan can be reversed safely.
Are Towing Mirrors All The Same ?
Simple answer NO they are not.
To start off there are different kinds of mirrors, that give a different rear view.
There is standard "flat" glass. These are commonly used on the "drivers" side & give an exact image of what is behind the car. These mirrors work in exactly the same way as a mirror in your bathroom, as in when you are looking into the mirror, it as showing an exact reflection of you.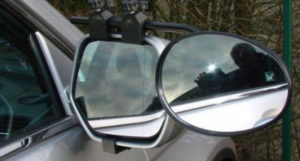 "Convex" mirrors are slightly curved & this means that they give a slightly wider view. This means that you can see a bit more of what is behind you. These are commonly used on the "passenger" side of a car. They make objects appear slightly closer than they actually are.
Convex mirrors are often used on longer vehicles, because a flat mirror does not give enough vision width to see beyond the vehicle length.
Dual glass mirrors, are exactly as the name suggests. They have 2 mirrors within the frame, so it is a combination of both the flat mirror & the convex mirror.
The main mirror is flat & as we know with the drivers side mirror, this gives an exact reflection of what is behind the vehicle. The smaller outer mirror is convex & so gives a wider view as to what is behind the vehicle.
So That's The Mirror Glass – What About The Actual Mirrors
Again there are many different actual mirrors available. They come in different shapes, sizes & fixings, depending on the application needed.
One way or another the mirror extensions attach onto the vehicles existing mirrors. This is done by suction cups, securing straps, screw on clamps or a combination of the three.
The mirrors also vary in shape & size, again depending on what vehicle
you want to fit them onto, how the look & how much rear visibility do you need.
As you would expect the "dual glass" mirrors tend to be larger than the single glass mirrors.
Some of the Dual mirrors also can have the ability of being "rotatable", so the main mirror can have the outer smaller mirror horizontally to the outside or be rotated vertically & have the smaller mirror below the main mirror.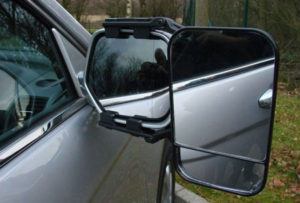 Some of the mirrors are all plastic, as in the frame, the supporting arms & fixings. These mirrors are also normally flat backed in their design & are more suitable to a standard family smaller car.
The larger 4×4/SUV type mirrors, are in their nature larger & use a metal arm from the fixing bracket to the mirror head.
Then at the top of the range are what are called "aero" mirrors. This simply means that they are more aerodynamic in their shape. It can be argued that these mirrors are more stable at higher speeds.
However, any mirror should be stable, with limited or nil vibration at the legal towing speed. If not, what is the point in buying it! The "Areo" mirrors have
metal supporting arms & as for appearance, they are more in keeping with a modern cars wing mirrors.
I guess if you wanted to keep the mirrors on, without the caravan, then they could be more useful at high speed, but in all honesty, as the mirrors are very simple to remove & attach after the first initial set up, no one is really going to bother.
Let's Have a Look at Who Has What .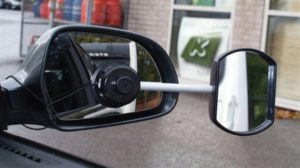 Streetwise ; have a range of mirrors. With "suck it & see" which as it suggests, uses a suction cup to attach to the car mirrror. This range has both flat & convex mirrors, plus the deluxe model has an additional blind spot mirror.
The "E" mark mirrors attach with clamps & straps & convex lenses & also has a twin split lens version, with a blind spot mirror. Plus a universal pair of mirrors that have a metal supporting arm.
Finally, their "Rock Steady" mirrors have a flat & a convex mirrors, with 2 locking tabs & 2 straps. These mirrors have one metal supporting arm.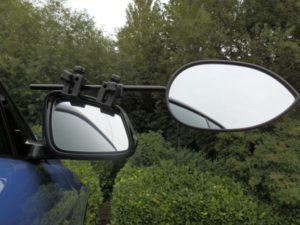 Milenco ; have the falcon range & steady mirror ranges with both flat & convex glass & using clamps & straps to secure the mirrors in place.
The mirrors are of different sizes to suit different applications & they use both twin plastic supporting arms & single metal support arm.
The flagship of the range is the "Areo" with adjustable clamps, a metal support arm & a choice of both mirror size & arm length. The Grand Aero has the largest mirror head ever used on a set of towing mirrors.
Reich ; have a standard towing mirror with twin plastic support arms, securing straps & flat glass.
They then have the XL & XXL range with twin arms, clamps & straps, with the flat mirror being mounted vertically. The XXL can actually be fitted to motorhome sized mirrors.
At the top of the range again is an areo style mirror the "speed fix" with a single metal support arm & 2 adjustable clamps.
Maypole ; again have a standard universal towing mirror, that can be fitted to either side of the vehicle. Fitting is by way of plastic supporting arms & straps.
There is an areo model again with 2 plastic supporting arms & also a Deluxe model that has a single metal arm & adjustable fixing clamps & an aero designed mirror casing.
A large dual rectangular mirror is great for 4×4's. Maypole use both convex & flat glass, so the correct mirrors can be purchased for the off & near sides of your car.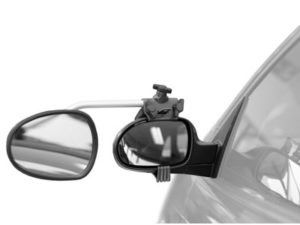 Repusel; have a very large mirror range; Krok 1, Top Millenium, Big Frog, Bari & Alaska. The top of the range mirrors Alufor & Lumax.
The brand new Krok One mirror can be mounted on most car mirrors, with or without rubber straps.
The straps are included for extra safety and stability.The Top Millennium can again be used with or without rubber straps.
The Alaska has an adjustable arm, to ensure that you see fully down the sides of your caravan.
The Bari has twin plastic arms to help minimizes vibration. The Big Frog is designed to fit on larger vehicle mirrors, as it has more space between the 2 mounting arms.
All these mirrors are "flat glass"
The top of the range mirrors are Alufor & Lumax. They use a single aluminium arm & come as either short or long & the mirrors are flat & convex. They use an anti slide, multi fixing sucker arrangement to secure the mirror. The Lumax use a stainless steel single supporting arm & the mirrors are tinted glass to reduce sun glare. Great for European sunshine.
How Much ?
So which caravan towing mirrors should I buy & why ? You have a wide choice & depending on how much touring you are thinking of doing & how big your budget is, you will be able to get a pair of mirrors to suit your  vehicle & your pocket.
Mirrors start at around £20 a pair for of all plastic frames & single glass & go up to around £ 150 a pair for Lumax mirrors
Points To Remember Before You Buy
Caravan towing mirrors should extend your rear view vision, with a flat glass mirror on the drivers side & a convex glass on the passenger side, the convex glass makes for a wider field of vision.
The product must meet the requirements of the law & are EU Approval Certified.
The mirror must be easy to use with universal straps & or clamps. It should also fit your vehicles mirrors with NO modification.
Once fitted it should not move, even at motorway speeds & there should be virtually no vibration.
When they have been correctly set up & fitted, the mirror must be able to be removed & simply refitted without adjustment
There are a wide range of Caravan towing mirrors to suit virtually every vehicle.
To be fully compliant with the law you should have a mirror on each side of the towing vehicle. If not you can face a fine of 3 points & a £1000.00 fine for each infringment. Which means each side of the vehicle !
Please leave a comment below, if you have any questions about the most suitable mirrors for you.