It seems that every few years, we end up buying yet more outside chairs for our motorhome, because of some damage in one way or another, to the frame the material or both. I thought this is ridiculous, these aren't supposed to be disposable items. I wanted to buy a product that might actually last & so I looked at Kingcamp Camping Chairs.
What Do They Have?
Firstly they have a very good reputation for making quality camping products & secondly they have a large range of chairs to suit everyones different needs & uses. They currently have 28 varieties across half a dozen categories;
Director Chairs

Ultralight Chairs

Camp Chairs

Beach Chairs

Camp Stools
I'm not going to provide a massive list of all of them. I'm just going to pick maybe one or two from the categories & we can have a look at what they are like. So here we go, let's see what they have got.
Great deals online & you will be able to get exactly what you need by clicking on  these links.
KingCamp Heavy Duty Steel Folding Chair/Director's Chair with Cooler Bag and Side Table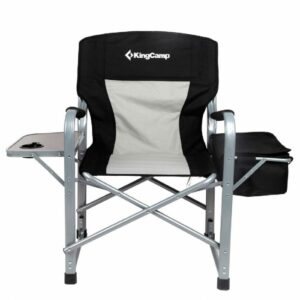 This extremely comfortable folding, heavy duty director chair has some great features.
There is a foldaway table on the right side which has a cup holder built in to keep your drink or water bottle safe.
On the left hand side is a cooler bag which is really handy for keeping drinks & snacks cool, whilst you relax outdoors.
With the foldable design, the chair is easy to open or fold in seconds.
After folded the size only have 93 × 27 × 18 cm which make it portable and light enough for easy use & stowage.
This excellent chair with it's multi-purpose features is just really  good.
Features
Rugged steel frame, extra large size, can support up to 150 kg;
Seat height 44 cm, width 53 cm, weight 6.7 kg.
Breathable, moisture-wicking fabric; Padded hard armrests to add more comfort.
Fold-away insulated snack cooler (12 liters); Side table with cup holder; Relax with a drink and a snack on the side table.
Sets and folds in seconds, very easy to use and store; Packed Size 93 × 27 × 18 cm
The folding chair is comfortable and firm at the same time, great for motorhomes, camping & caravanning.
KingCamp Lumbar Support Camping Chair –

Deluxe camping chair with excellent lumbar support. This strong & stable heavy duty chair has a support weight of 160kg
The chair though weighs in at only 5.1 kg and after being  folded it is small & light enough to be easily stowed away.
The size of the chair makes it really comfortable for everyone and the chair with 600 × 300D oxford fabrics gives you a cozy feeling. High strength steel tubes bracket structure design makes it very stable.
Card slot type and metal material contact point design make the chair very stable & strong with a high support weight.
All in all a very classy looking & very comfortable chair, that really looks the part under everyones awning.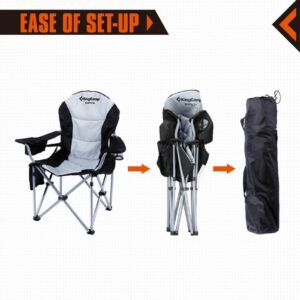 Features
Large seat area with 600 x 300D oxford fabric and lumbar support
system provide comfortable feeling.
Considerate design for cup holder and armrest: This human
engineering-designed armrest with perfect height ensures that your arm
is relaxed. A durable mesh cup holder is convenient for placing an
drinks you want.
Easy to fold and set up, in seconds.
Build with high strength steel tubes. Card slot type and metal material
contact point design makes chair firm & stable to use. Weight capacity up to
160 kg.
Only 5.1 kg small size after folded, easy transportation
with carry bag. Idea for Motorhomes, camping & caravanning
KingCamp Low Slung Camping Chair Low and High Mesh Back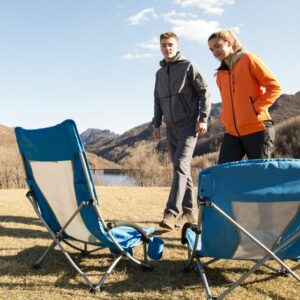 These lightweight low slung camping chair comes with a choice of back rest heights.
Portable, strong & stable, these are great chairs for relaxing in under the awning of your camper.
The right arm rest has a cup holder which is used to put your water bottle, snacks and other small items, armrest wrapped by foam is soft, useful and suitable for rest.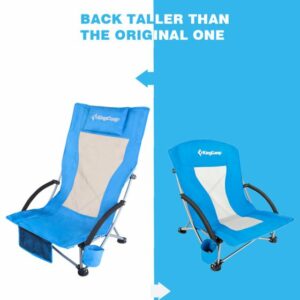 Weighing in at only 3 kg & folding away in seconds, they are perfect for your  camper & great to take down to a beach or on a picnic and more!  Comfortable low seat design and soft 600D oxford fabric gives you a cozy body feeling.
The right arm has a cup holder for your water bottle, snacks and other small items, for additional comfort the armrests are wrapped in a soft foam.
Breathable and comfortable mesh back and seat makes you feel cool in the sand & relaxed under your awning.
Heavy-duty steel frame, weigh only 3 kg, supports up to 136 kg. A really good lightweight & versatile chair & I like the idea of the choice in a low or high back.
Features
Arm rest
wrapped by foam is soft and comfortable, cup holder to keep your drink
close.
Low seat and big leg cap make a more stable structure, it can be used on the beach.
Breathable and comfortable cooling reinforced mesh back and seat makes you feel cool in the sand.
Seat height: 20 cm, width 58 cm. Heavy duty steel frame (Weight: 3 KG), SUPPORTS UP TO 136 KG
Open and close in seconds, packed size 78 × 20 × 13 cm, very easy to use and store with carry bag and compact straps.
KingCamp Ultralight High Back Folding Camping Chair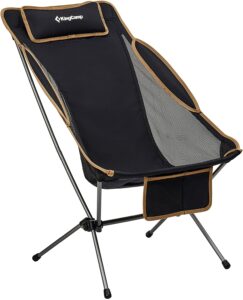 A quick setup in a minute using foldable aluminum rods with a shockproof structure, is pretty impressive for this ultralight weight chair and not only that, it can then, be folded.
You can use this chair for all outdoor activities like camping, BBQ,
hiking, beach, travel, picnic, festival or any outdoor activity.
Added padding pillow bag design and support structure on the back can fully support your head. Padding on the thighs and elbow area of the chair,gives more comfort for your arms and legs.
With design of two-position adjustable backrest you can choose the most suitable and comfort angle for your back, whether you are reading or just laid back relaxing in it.
Gauze design on both the seat surface & back, is breathable and more comfortable when it's hot. Comes with a PP foot cover, anti-slip and is very durable
High density oxford fabric is tear-resistant & thickened 7075 aluminum alloy frame is
anti-corrosion. Oxford carry bag for easy storage; Adhesive side pocket
design conveniently stores small items without hindering leg comfort.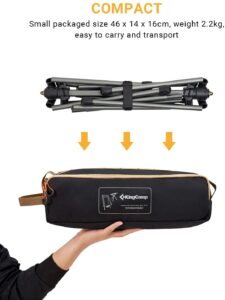 This product is very light and compact enough to put into your backpack or your carry-on luggage.
Folding size: 46 x 14 x 16 cm; Weight only 2.2 kg SUPPORT UP TO 150 Kg.
Kingcamp stand by their product quality and want you to love this high-back camping chair. To prove this, it comes with a 30-day money back & lifetime warranty that ensure product quality and protect your purchase.

KingCamp Moon Camping Chair with Cooler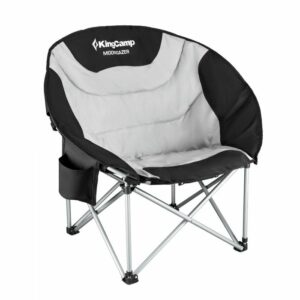 This to me just looks absolutely fantastic & inviting. You know that this is going to be great before you even sit in it.
This KingCamp armrest chair is big & strong can support up to 130kg. There is a handy cooler bag for storing a cold drink or snack.
Folds up and down to a compact size in seconds.
Durable steel frame with reinforced legs ensure supreme stability on uneven ground. Flat feet design prevents wobbles from shifting position.
The chair which is generous in size provides extra room to move. It is wide enough for people to lean or wiggle in it. If you like the idea of having some really comfy, basically lounge style chairs, then this is the very model & will look fantastic in any ones awning.
Features
Rugged steel frame design, supports up to 130kg;
Padded and round seat chairs provides special comfort; Durable, wear-resistant 600D oxford fabric
Cooler bag on the back keeps your drinks fresh and cool
Open and close in seconds, packed size 90 x 20x 20 cm, space
saving; Carry bag with shoulder strap included for easy transport and
stowage
KingCamp Extra Large Slant Backrest Structure Camping Chair with cooler bag and organizer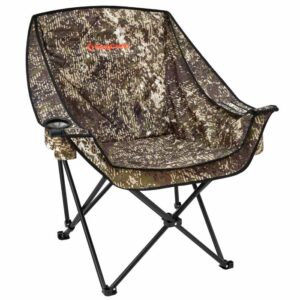 With its robust steel construction, the camping chair can be loaded up to 136 kg. The padded backrest, seat and armrests offer a high level of comfort and let you quickly forget the stress of everyday life.
The wide seat makes for really comfortable position. Cool bag design, cup holder and back pocket are particularly practical.
A wine glass holder is ideal for your favorite wine. This excellent camping chair can be set up and taken down in no time.
FEATURES
Ergonomic Design, slanted backrest to reduce muscle tension and improve comfort.
Oxford cloth quilted double layer is both soft and comfortable. The armrest with cotton layer also add to the comfort.
Cooler bag for a cold drink or snack.
Organiser for book, magazine and other small objects.
Easy to open or fold in seconds.
Firm and Durable: High strength iron tubes bracket structure design support up to 136kg
Padded and oversized lounge chair, provides more space and comfort.
embedded cooler bag, armrest cup holder and goblet holder keep your drink at hand.
Large back pocket for your person stuffs; Carry bag included for easily Packed size 25 x 17 x 97 cm, net weight 3.6 kg.
This chair is perfect to be used outside of your motorhome or caravan & to take on a picnic,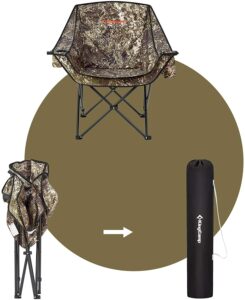 Are They Worth Getting ?
Yes, I really think they are. As I said at the beginning of the article I'm fed up with buying chairs, at a reasonable cost & then find that they are not really "fit for purpose" & fall to bits after a couple of seasons.
The Kingcamp chairs have actually had some design & thought put into their range. With some effort to make them very comfortable, yet sturdy & strong, as well as being light & easy to stow away. I personally really like the look of their chairs.