These quality, Maypole breathable covers fully protect the entire surface area of your caravan & are acknowledged as the best non-bespoke caravan covers on the market today.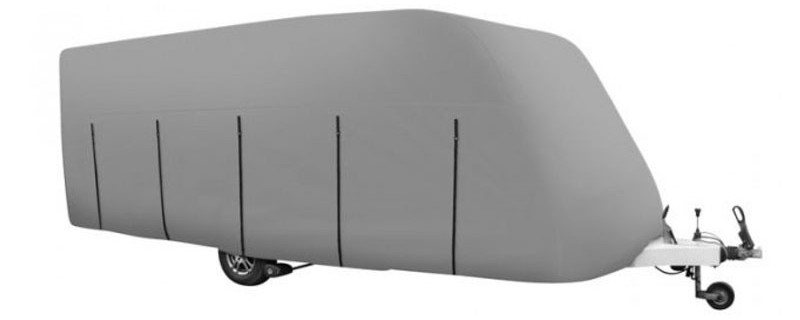 What's The Point ?
Whether you store your caravan on a driveway at home, on a site or in a storage facility, a full caravan cover is an excellent accessory to have.
When you have finished touring & the caravan has been cleaned, the cover comes into its own.
Once simply fitted the caravan is then completely protected from the elements & remains clean under the cover. The cover has 3 zips on the left hand side to make for super easy fitting. As importantly they allow for simple access to the caravan door, without having to take the entire cover off, just because you want to go into the caravan to do some jobs or to just check on the interior.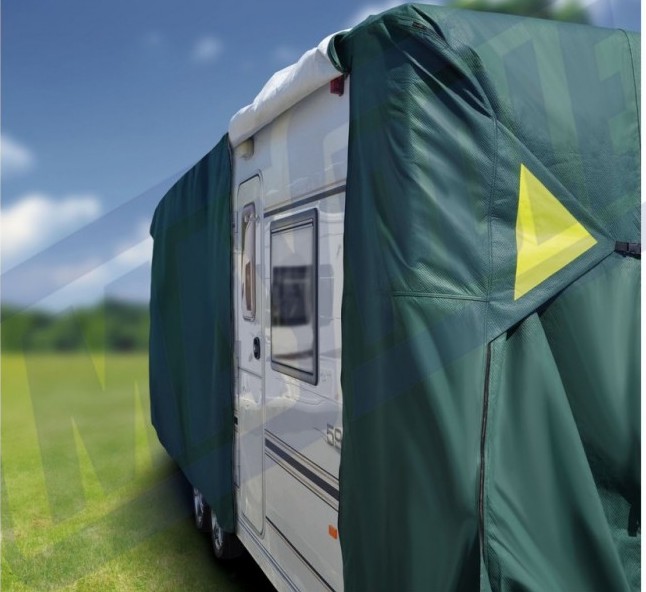 The cover protects the caravan from leaves & general dirt blown about in the wind, ice, snow & mold & mildew. Which we all know, builds up on the caravan exterior during the winter months.
The Maypole breathable covers are made from heavy duty 4-ply non-woven polypropylene fabric which is UV stable and highly water resistant, giving excellent protection from the elements.
What are Benefits of Breathable Water Resistant Material?
The technical version from the manufacturer, for those that are interested,is as follows;
"Water resistant means that the material will inhibit the transit of moisture to a given degree under testing using a known area of medium and barometric pressure. Water resistant, sometimes referred to as "breathable" covers allow the transit of moisture after a certain amount of rainfall, and will more readily allow evaporation of both rainfall and naturally occurring condensation."
What the paragraph above is simply saying is that the 4 ply design of heavy duty non woven polypropylene stops rain water from getting in & it allows any trapped water & condensation to evaporate. The covers repel water & are independently pressure tested to withstand a 1000mm of water. Allowing any water & condensation to evaporate through the cover is absolutely essential for any long term storage.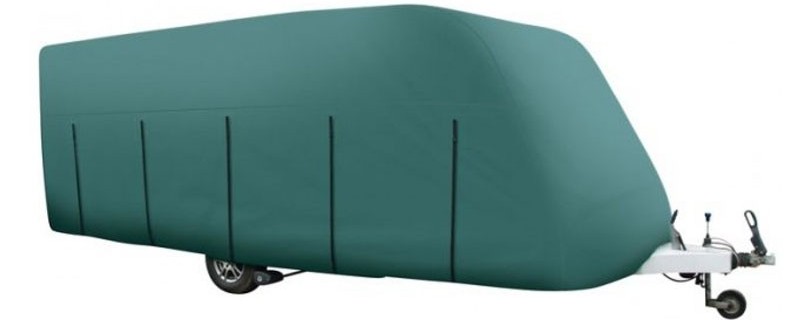 Fully waterproof covers trap condensation & that leads to lots of mold & mildew. This can cause as many problems as not having a cover at all. The gel coat ( the shiny white surface ) covering of fibre glass, actually has millions of tiny holes in it & this is where mold & mildew can build up, as it does on any sealing mastic & trims.
Cleaning the caravan with abrasive cleaning products, which is necessary to remove months of grime, caused without having a cover, leads to premature damage of the surfaces of the caravan. Wether the surface is painted or fibreglass/gelcoat, it is damaged by abrasive products. They cause millions of minute scratches , that break the protective surface of the paint or gelcoat, dully its appearance over time. In the case of gelcoat once the surface is damaged it then becomes softer actually starts to become porous. Over time you will see the dirt & mould sitting int he tiny holes in the surface.
These caravan full covers also feature a soft non-abrasive backing to the cover material which is designed not to scratch the caravan when fitted. The cover material is also bonded, using an innovative rounded pattern, this helps it to reduce & resist stress area's. This massively stops the cover from splits & tears under normal conditions.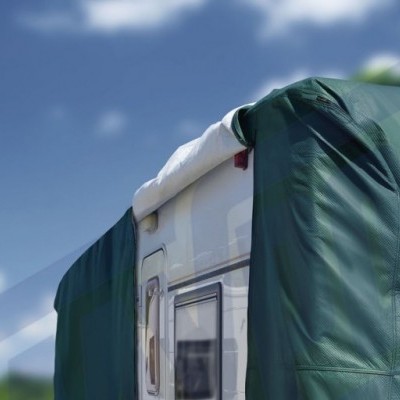 Description/Features
Easy to fit (fitting instructions included)
Protect your caravan when in Winter storage
UV stable, ensuring the cover last a long time
With nylon straps and plastic buckles for a secure fit
Adjustable straps on the rear and side of the cover to tighten thematerial when fitted. This ensures a safe fit in all conditions
Elasticated hem for a tailored fit
Storage bag included
3 zips for easy access, positioned on the nearside of the caravan
Cover dimensions: Width 231cm, Height 228.6 cm, Length 432 cm to 762 cm
4 extra strong double stitched adjustable side nylon straps & up to 7 straps for the large covers
A breathable hitch cover with adjustable strap is included with the Maypole cover
These caravan full covers come in a range of 6 sizes, To fit caravans from up to 4.1m (14ft) to caravans up to 7.4m (25ft), so they can cover all but the very large caravans. There is also a choice of colour, either, Dark Green or Grey. Which is great to have a choice, because depending on where you keep your caravan, you might very well need a different colour. On your drive at a home a grey one might look good or a green cover could be more in keeping if your caravan was stored on a site.
NOTE ; The covers are 231cm wide. This means that they fit 99% of all standard width caravans. If you have a caravan wider than the standard caravan, then Kampa do a 250cm wide cover.
How Much?
Looking at the prices online from the big players:
They start at £75 for the 4.1m cover & go up to £140 for the large 7.4m cover.
You can buy cheaper covers, but as always, you get what you pay for!
A thinner ply, stitched material, will probably rip & tear & without the soft lining, you could cause damage to the surface of the caravan your caravans exterior finish, for all the reasons previously explained. A fully waterproof cover will trap any moisture under the cover & cause more problems with mould & mildew, than if you didn't bother at all.
Maypole have a very good reputation in the leisure industry & market quality products. Their caravan cover range is no exception & as I said at the beginning of the article they are acknowledged as the best non-bespoke caravan covers on the market today.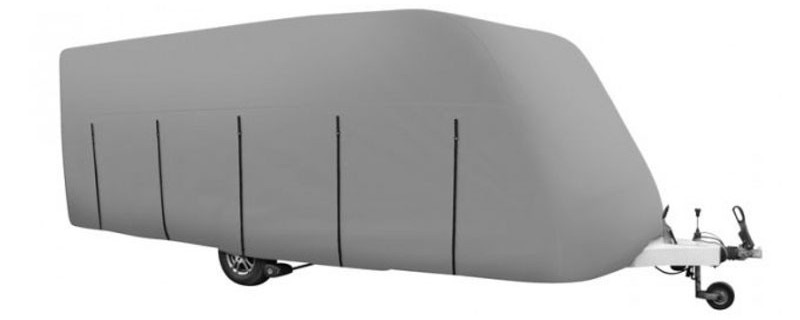 So Should You Get One?
The simple answer is YES.
When you look at the of ammount money that you have invested in the purchase & upkeep of your caravan, then to spend £100 ish on market leading quality caravan full covers, makes perfect sense. To have the entire caravan protected from the weather & to have the interior mold & mildew free when left in storage,is invaluable & makes for money well spent. For me it's a no brainer.