---
VW Camper covers are a very good & relatively inexpensive way of protecting not just the exterior, but also the interior of your campervan, when it is not being used.
Why Bother With a Cover

Cleaning of the campervan with abrasive cleaning products, necessary to remove months of grime, caused without having a cover, leads to premature damage of the surface of the vehicle.
There are VW camper covers for just about every variation of these popular campers.
So it's pretty easy to get the right one for your van.
Two of the main suppliers of quality covers are Maypole & Kampa
Both companies provide quality, breathable covers that fully protect the entire surface area of your campervan & are the best campervan covers on the market today in terms of both price & quality.
A necessity for the Winter months, whether the campervan is stored at home, on a site or in a storage facility The breathable covers are made from heavy duty 4-ply or 3 ply non-woven polypropylene fabric which is UV stable and highly water resistant, giving excellent protection from the elements.
Great deals online for VW Camper Cover

– click the link below :
Benefits of Water Resistant Material – Breathable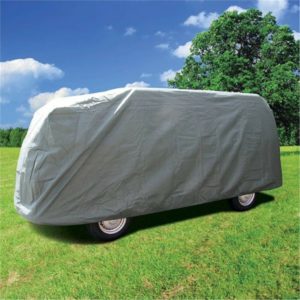 Water resistant means that the material will inhibit the transit of moisture to a given degree under testing using a known area of medium and barometric pressure. Water resistant (sometimes referred to as "breathable") covers allow the transit of moisture after a certain amount of rainfall, and will more readily allow evaporation of both rainfall and naturally occurring condensation.
This is the Features & Specifications of the Maypole Cover for a Type 2 ;
Suitable for all models of VW Type 2 camper vans with:
– most roof options
– standard or lowered suspension
– rear cycle carrier or front mounted spare wheel
Dimensions L 181″ x W 61″ x H 63″
Heavy duty 4-ply non-woven polypropylene fabric is UV stable, breathable and highly water-resistant, giving excellent protection from the elements
Material is bonded using an innovative rounded pattern, helping it to resist stress and tears under normal conditions
Comes with elasticated hem for a tailored fit
Nylon straps secure the cover firmly in place. 3 straps at the back of the cover.
Zip openings for driver & passenger doors make fitting easy
Handy storage bag is ideal for when cover is not in use
Fitting and care instructions provided
They also have a cover for T25, T4, T5, & T6 campers.
The Kampa T4, T5 & T6 premium cover is an exact fit and uses Kampa's proven triple layer SFS material so you can ensure that your VW Campervan is protected against the elements such as sun, rain, snow, dust, bird lime, tree sap, airborne pollutants and heat.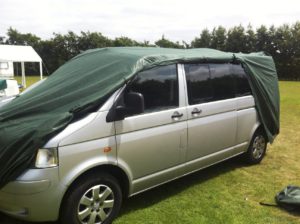 Triple Layer Protection
Outer Layer – Soft yet durable. This layer is designed to reflect the sun's harmful UV rays and to prolong the life of not just the vehicle but the cover itself through the extra protection the outer layer provides.
Middle Layer – Let it breath. The middle layer is an aeror micropore breathable film. This allows for water vapour to escape yet prevents rainfall from penetrating. Our covers are not only water resistant but also breathable.
Inner Layer – Soft and non-abrasive. The inside layer is what rests against your vehicle which is why we use a soft and proven non-abrasive material to prevent scratches or rubbing of paintwork.
Why should I use a VW camper cover?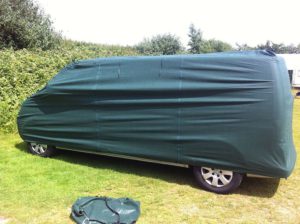 When your campervan is not in use it is still liable to damage from the elements. A campervan cover ensures that your campervan remains dry and clean when not in use, be it through rain or snow you can rest assured that your motorhome is protected, also excellent at protecting against bird droppings that can be an unnecessary hassle as they can cause serious damage to the paint if not cleaned off immediately but can be hard to spot when the vehicle is not being used.
Features of The Kampa Covers ;
Keeps your campervan clean and mildew free
Triple layer SFS material beads water on contact affording maximum resistance to rainfall and snow
Breathable – water and condensation under the cover can easily escape
Reduces internal heat build-up in the caravan and protects internal furnishings from the fading effects of the sun
UV stabilised
Tough and interlocking 4 ply seams with rot proof thread
Soft and lightweight – will not scratch
Elasticated hem provides perfect fitting
4 zippers make the cover easier to put on and take off and offers access to the door of your van
Sewn-in, quick release buckles for easy installation and removal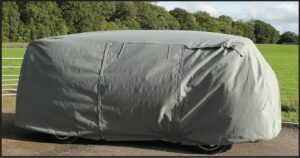 Just Kampers also have VW camper covers to fit the range. This T2 cover is made from  3 layers of highly water resistant,  non woven breathable polypropylene  175 gsm fabric. This material is designed to have good ventilation to let trapped  moisture and heat to escape and to help protect your van against the sun's UV rays.
It has an elasticated hem & three adjustable securing straps (one lengthways and two widthways) that go under the vehicleand. There are four openings with rain flaps over the zips & tie backs. These allow the two front doors and either side sliding doors to be opened to allow access & to vent the vehicle.
Great deals online for

VW Camper Cover

– click the link below :
Are They Worth The Money ?
Yes they are, is the simple answer. When you consider the cost of the vehicles & the cost of  VW camper covers, it really is a no brainer.
For the Maypole cover, expect to pay around £ 80.00 to £100.00.
For the Kampa cover, expect to pay around £100.00 to £120.00.
For the Just Kampers cover, expect to pay around £ 130.00.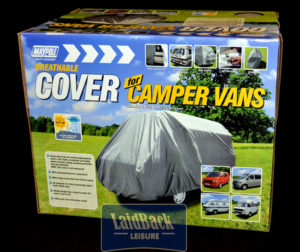 When you look at the cost & the benefits VW camper covers are an excellent accessory to have to look after your camper through the winter months.
One point to consider is if you have a solar panel, the cover will stop the charge to your battery