Ideal for use in awnings,tents, trailer tents, caravans & motorhomes.
This camping electric hook up will quickly become a must have accessory for any keen camper or traveller.
So Whats Good About It ?
I like the fact that it comes with tent pole clips, so you have a chance of not being electrocuted at the first sign of rain.
The Maypole Mobile Mains Power Unit has been made of the highest quality and provides a safe mains electricity supply whilst camping or caravanning. The RCD protection and slash proof casing makes the 20m cable strong and robust for most outdoor uses. The 3 x 13amp sockets also come a carrying case.
This is a very well thought out product, with the latest Maypole version having a built in USB socket, which in our modern always connected world it's almost a necessity to be able to charge up the all important smart phone.
Horizontally aligned sockets means all sockets can easily be accessed and used at once.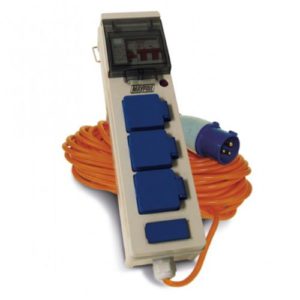 You can see it on so many other makes where the sockets are vertical, as in the picture below.
Think about it as soon as 2 plugs are put into any sockets, it then becomes virtually impossible to use the third socket, because of the cables being in the way.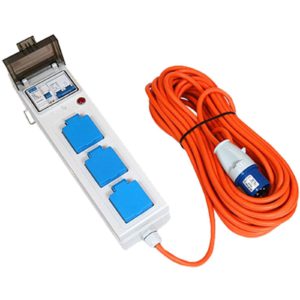 Expect to pay £30 to £40 for the standard version & a bit more for the USB version.
Description
Plugs directly into campsite power supply to bring safe 230V power to your appliances

Ideal for use in your caravan, tent, awning, trailer tent, camper van or motorhome

Built in RCD & circuit breaker for total protection

3 UK 3pin power sockets suitable for large plugs & adaptors

Integral 20m orange connection cable (3 core) & site plug

Indicator light shows power supply is connected

10 Amp maximum total capacity

Splash-proof assembly (NOT waterproof)

Complete with carrying handle & tent pole clips
You can buy an actual Maypole storage bag for the mobile hook up, which for the price is well worth it.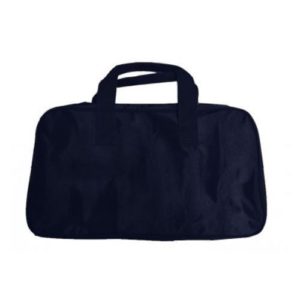 Although it is sold as being great for everyone, in reality it is for the camping market that the product really comes into its own. Allowing the camper to have safe 240v power inside their tent.
For caravans & motorhomes, I don't really see the point because they all have mobile hook up anyway & so it is just as easy to use a standard extension cable from a spare socket within the caravan or motorhome. Also the likely hood or having a spare mains socket at your pitch to plug this into is close to nil, plus in the rare chance of a socket being available, why would you want to pay twice for electic.
There are cheaper copies of this unit on the market, but for me I would pay the bit extra & get something that works, is going to last & wont actually kill you.
The Maypole mains power unit, is the best available on the market today & gives you the peace of mind, that you & your family are safehen using it.
Some have fifteen metre cables & I have seen them advertised with only a ten metre cable. Where when you think about the layout of most campsites & the availability of electric points for tents, it would be close to the odds of a Lotto win to turn up to a site in late July & grab yourself a pitch 9  metres away from an electric point.
Can you imagine the frustration & a complete meltdown if you had teenagers with you, when you see that the nearest electric point is 17 metres away. But because you saved a tenner, you have no power for your fortnight away, to drive the chiller box, all your smart LED lights, but most importantly for the teenagers, no power to charge the all emcompassing smart phone.