Power cables are an obvious accessory for just about everyone who has a motorhome or caravan. Nowdays you can even get a power cable with sockets for going camping.To answer the question "which electric hook up cable do I need?" keep on reading.
What different cables are there?
For most people a 25m cable is about spot on in length, you can get 15m cables & I have seen them advertised with only a 10m cable.
Where when you think about the layout of most club campsites & the availability of electric points, you might be pushing your luck, with only 10 metres. Equally, you might now think that a 25m cable is a bit over the top, but from experience when staying at many more "rural" campsites & especially when in a lot European sites, 25m is a blessing.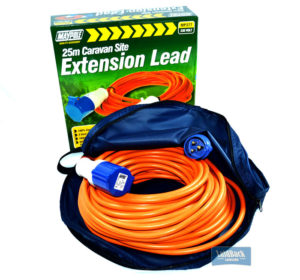 Can you imagine the frustration & a complete meltdown if you had teenagers with you, when you see that the nearest electric point is 17 metres away. But because you saved a tenner, you have no power for your fortnight away.
A quality, heavy duty 2.5 mm2 mains 220v power cable, is fitted with Blue 3 pin plug & socket, that are the standard fitment in most UK & European sites.
Being a 100 % triple core 2.5mm2 copper cable it can easily cope drawing a large current when running multiple appliances with the maximum 16 amps available at camping sites.
Most hook up cables are coloured orange so that it is easily visible on grass and avoids being damaged by grass cutting and other activities on site.
These are very good quality & you should expect to pay around £ 30.00
What About Cheaper Cables ?
You can buy 1.5mm2 cables at 25m lengths & less, again fitted with the standard Blue 3 pin plug & socket. They are as with the 2.5mm2 cables, normally a bright colour, ie, orange, yellow etc. For some people that have a very minimal power usage these cables could be sufficient.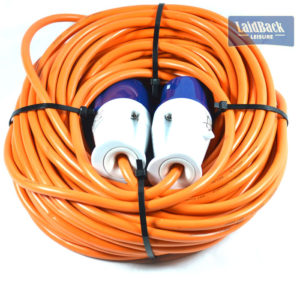 However, for most people with a motorhome of caravan, they are not. So which electric hook up cable do I need? Well let's think, if you turn up on a pitch & plug in your  hook up cable & you then run, the fridge, battery charger, lights,TV, sat system, phone chargers, laptops & aircon, you would be using close to the maximum amps supplied by the campsite mains electric socket.
You are now asking a lot from a thin cable & it will start to heat up, even more rapidly in a hot climate.
Most people would never consider plugging in all of the above, into a cheap extension cable, in a single plug in their house. You know that you would be taking a serious risk !
So why entertain the idea of using a cheap, inferior cable, when it comes to safely powering up your motorhome or caravan ? When you know it's wrong.
Why buy a heavy duty 2.5 mm2 mains 220v power cable ? Because it's the right thing to do.
Basic Features & Description that you should be looking for –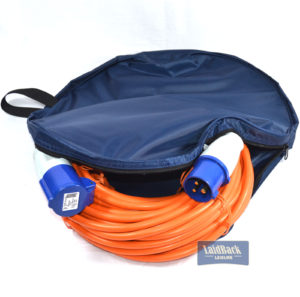 Motorhome/Caravan site extension lead with 25m cable
100% copper cable (3 core 2.5mm²)
16amp/230V site connectors
NCC Compliant
IP44 rated
Supplied with splash-proof 3pin plug and socket
Orange cable for visible safety
Handy storage bag can be purchased separately
For me, buy the correct gear & you will get years of trouble free use out of it. The point of potentially losing everything, including your life, to save a tenner, just dosen't make any sense at all.So which electic hook up do I need ? Buy a heavy duty 2.5 mm2 mains 220v power cable. Why? it's stupid not too.
There are various makes on the market at the moment. One that you can always rely on is Maypole.
Great deals online for Electric Hook Up Cables

– click the link below :

Safety is Top Priority
Remember that camping on site using a 230V mains hook up electricity supply within caravans, motorhomes and tents requires even more care than in the home. As your unit is mobile there is a greater chance of things going wrong with an electrical installation, than you would expect with the fixed installation within your house.
It is important that you make sure that your electric hook up cable and equipment are maintained in good condition, by simple checks every time you use them and also by using them in a sensible way. Have electric cables & appliances checked by a qualified electrician, if you are at all concerned about their condition or safety.
When using any electric hook up cable, NEVER have any length of the cable coiled up, as this massively increases the heating up of the cable!