Let's have a look at the different kinds of caravan steps that you can buy in the UK. To find which ones are the best in the way of design, fabrication & price, to suit your needs & budget, keep reading " caravan steps UK"
What Do I Need ?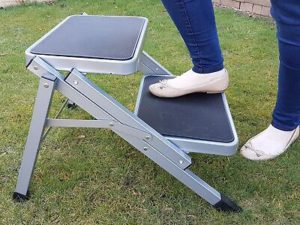 There are a few things to think about before you rush out & grab a set. The first most obvious point is safety. The steps must be strong & stable & the tred area must have a good grip, especially when wet. Do you need a single or double step ?
Would a light plastic step be better than a metal set. When you are storing your set of steps, would it be better if they folded away, flat ? Would they be on an awning carpet or not ? Then there's how much do you want pay. Lets have a look at what caravan steps uk has to offer.
Double Steps
Folding Steps
Folding steps have the obvious advantage over fixed steps, when it comes to storage. The step heights are roughly 20cm for the first & a total of 40cm for the second.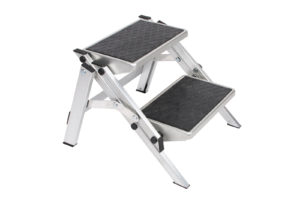 They come in a steel powdercoat or in aluminium. Both have nonslip pads on each step to stop you from slipping. They weigh in around the 5kg mark for the steel steps & around 4kg for the aluminium. Expect to pay a bit more for the aluminium steps, like the one pictured right by Kampa. The more stable steps have the legs further apart, as in front to back measurement. This gives a folded height around 85/80 cm. The compact steps have a folded height of 55/60 cm. which ever steps suit you best make sure that they have at least 110 kg capacity & preferably 150 kg. Think about the safety of the people using the steps & get a set that are sturdy & stable with good nonslip tred mats.
Features to Expect
Folds for easy transportation and storage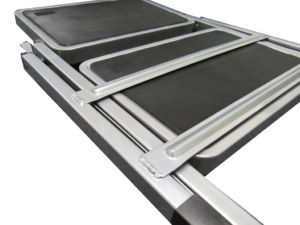 Strong powder coated steel frame or aluminium
Non slip tred mats
Maximum loading: 150 kg
Height to first/second step: 20/40 cm
Folded size: 89 x 39 x 7cm
Maximum loading: 150 kg
 Great deals online for Caravan Folding Double Steps-

click on the link below  :

Metal Steps
Royal- Streetwize & Explora all make double steps that look very similar in design. They are strong & sturdy, with metal powder coated frames, with a crossmember for added rigidity. All have large nonslip tred mats on each step.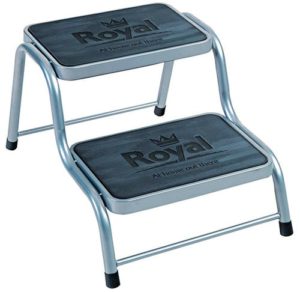 There is a version of these steps that has a full height hand rail on one side. The hand rail is detachable to make storage easier.
Strong Steel Construction
Anti-Slip rubber tread
Approx size 43 x 62 x 38 (height) cm
Maximum weight capacity 150kg
Maypole have a very similar looking step to the 3 described above, but with some very interesting design features.
Great deals online for Caravan Metal Double Steps-

click on the link below  :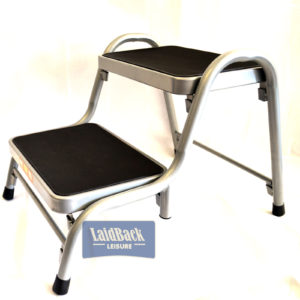 The step is a "flat pack" & has only 6 parts that lock together with no need for any tools. You have the 2 frame sections, 2 steps & 2 cross members.
It is the same dimensions as the rigid steps above & also has a capacity of 150 kg. It takes literally seconds to put together & dismantle.
If stowage space is a consideration, then the Maypole 5387 could be the answer.
Features
IDEAL FOR CARAVANS, MOTOR HOMES OR AROUND THE HOME.
DISASSEMBLES FOR EASY STORAGE (FLAT PACKS).
ROBUST STEEL CONSTRUCTION.
EASY PUSH FIT ASSEMBLY (NO TOOLS REQUIRED).
RUBBER NON-SLIP TREAD PLATES.
Maypole CARAVAN STEP – FLAT PACK DOUBLE STEEL (silver) (5387)
These steps also have the clever design feature ( unlike most others ) that gives 2 carrying handles on the top step making them easy & light to move around & stow away when necessary.
This feature also acts as a safety guide when stepping out onto the top step, giving peace of mind, when the steps are wet & especially in the dark.
 Great deals online for Caravan Flat Pack Double Steps

– click on the link below  :

Plastic Steps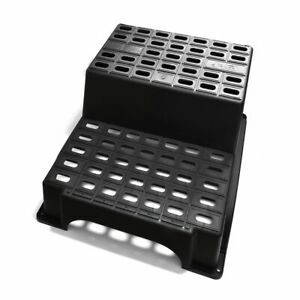 The best that you can get are from Milenco. They have a load capacity of a massive 200 kg.
The step heights are roughly the same as the metal steps, so for these 18cm for the first & a total height of 38cm.
They are extremely sturdy & strong & have a large open tred pattern to make sure that you don't slip and fitted with rubber pads to the feet which prevent skidding on tarmac surfaces, and pegging-out holes to secure the step on grass with standard metal tent pegs.
Features
Ideal for those who are who just want a steady platform.
Tread Size – 360mm x 220mm (top step), 410mm x 220mm (bottom step)
Height 180mm & 380mm approximately
Weight: 2.8kg
Tested to 200kg
 Great deals online for Caravan Plastic Double Steps

– click on the link below  :

Single Steps
Folding Steps
There are various single folding steps, that are similar in design with a step height of 20cm & a 150 kg weight capacity.
They have good nonskid tred, are made from powder coated steel or aluminium & weigh a couple of kg. The legs fold up under the step to make for easy storage. One with a difference is the Royal Adjustable Heavy Duty Step it is a large step with a nonslip platform area. It is a strong & sturdy aluminium step, with a weight capacity of 200kg.
The step has an adjustable leg height position from 18.5cm to 24cm, allowing you to set the height that is the best for your caravan. The legs of the step fold in, for easy & compact storage.
Great deals online for Caravan Single Folding Steps

– click the link below

Metal steps
Explora- Maypole-Streetwize. All make a similar step.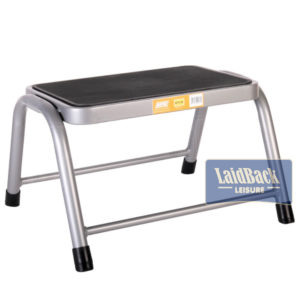 They are heavy duty single caravan step with a nonslip tread, being either plastic or rubber, for your safety. Being stable and sturdy and made from steel for strength, the tube construction keeps the weight down to around 2 kg. With padded feet for stability they are suitable for use on grass or concrete.
For me, I'd get one with a rubber nonslip tred & this one is great. It is heavy duty, made out of tubular stainless steel. It is a bit heavier than some of the others at 5kg. That to me, just shows it is strong & built to last.
Features
Next generation step, nonslip rubber tread
Firm and sturdy yet lightweight
Made of strong steel tubed construction
Padded feet for stability
Suitable for grass or concrete
Great deals online for Caravan Single Metal Steps

– click the link below

Plastic Single Step
All of the usual manufactures offer single plastic steps. Fiamma – Milenco – Maypole – Streetwize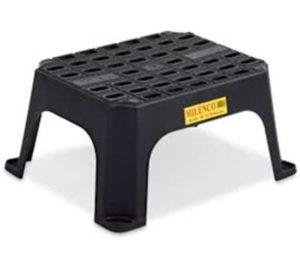 This step from Milenco is a good solid & stable step. Made of a pleasing grey polypropylene it has a decent tred pattern & only weighs a couple of kilos. It also has handy holes in the feet, so on a grass pitch you can peg it down.
Features.
This mobility step is designed for use with caravans, motorhomes, & at home use.
Strong polypropylene construction made to be long-lasting.
Lightweight, yet robust and with a stable design.
Easy to clean & stow away
Holes in the feet allow it to be pegged down
Great deals online for Caravan Single Plastic Steps-

click the link below




Are They Worth It ?
They are one accessory that you really can't do without & when you look at the prices, even for the high end deluxe models, they are not really expensive & offer great value for money. Once you have narrowed down what kind of step best suits your needs, you still have a good selection of steps.
The main points to look for are, the sturdiness, the weight capacity & the nonslip tred.
Which ever step you choice should give you years of safe use.
I hope that you have found this article on caravan steps uk, helpful to you & if you have any comments or questions, please leave them below & I will gladly reply to you.