Quality Caravan Top Covers do exactly what the name suggests, in that they protect the top roof area of the caravan.
Why Do I Need A Top Cover ?
The roof is the largest area of your caravan that suffers from dirt, bird lime, tree sap & leaves etc. It is also obviously the most difficult area to clean.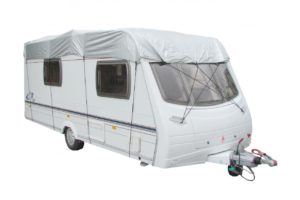 Whether the caravan is stored at home, on a site or in a storage facility, it is always the roof section that gets the most muck, grime & mold. To properly clean it, is no mean feat & requires you being balanced on a set of step ladders whilst weilding a long brush & handling a hosepipe.
Getting completely soaked is just about the least of your worries.
Cleaning the caravan roof with abrasive cleaning products, necessary to remove months of grime, leads to damage of the surface, over time.
This is where a quality caravan top cover comes into its own. Another great feature of a top cover is that it is very simple to get into the caravan whenever you want to & once inside you can see what your doing because of the natural light. Full covers have access zips, but obviously the caravan's interior remains dark.
Great deals online for
Caravan Top Covers

– click the link below  :
Which Is A Good Top Cover To Get?
Maypole
The Maypole range of top covers are very good. Maypole themselves have worked hard for the last fifty years to become the UK's leading touring & towing supplier offering an extensive range of quality products & these caravan top covers are no exception.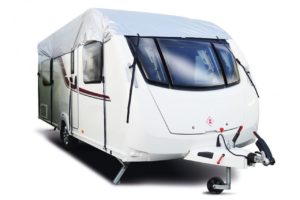 This range of quality covers give superior waterproof protection for your caravan. Designed to keep bird lime and tree sap from the roof of the caravan.
Superior roof cover offering protection for your caravan top
Designed to keep bird lime and tree sap from the roof of the caravan
Protects against: UV rays, rain & wind, smog & dust, snow & ice, birds and leaves
Waterproof
Universal fitment

Suitable for caravans from upto 4.1m to 7.2m
UV stable material ensure long product life
Manufactured from 150D Polyester with PU silver coating
Hydrostatic pressure tested 1500mm (for water resistance)
Non-abrasive material will not scratch your caravan
Not suitable for use in exposed windy areas
Storage bag included
EXPLORER Deluxe
 The Explorer Deluxe Top Cover protects your Caravan Roof seals against UV
Damage, Frost, Ice and general dirt & grim, which will prolong the life of your vehicle. Made from the tried and tested Polypropylene material which has a none abrasive layer which ensures Scratch Prevention to your Vehicle.
All cover sizes are 300cms wide which provides additional protection to the side tops of your vehicle.
The Caravan Roof Top Cover is a great investment to help protect your caravan or  from the elements and is suitable to use all year round.
Their new improved covers now come with nylon securing straps to prevent any abrasion on your vehicles body work.
Key Features:
* Protection against Rain, Snow, Dust & Moss
* Water Resistant & UV Stable
* Safe & Easy Fastening
* Lightweight & Compact
* Suitable for All Year Round Use
* FREE Storage Bag Included

PRO Plus
PRO Plus make a range of top covers for caravans
& motorhomes, with similar features to the Maypole range of covers,
but do use a "breathable" 3 ply fabric.

Product Description;
Universal top cover for caravan and camper. For inside and outdoor use during winter storage.
Soft, durable Polypropylene: breathable 3-layer SFS non-woven pp, 160G/M²
Aero micropore breathable Film. Equipped with nylon straps, for a secure fit.
Soft non-scratch backing
Benefits of Waterproof Material or Breathable
Waterproof means there is no transit of moisture through the material. Waterproof covers keep rainfall out, but will not readily allow evaporation of naturally occurring condensation.
Water resistant, sometimes referred to as "breathable" covers allow the transit of moisture through the cover after a certain amount of rainfall, soaks the material. It will then more readily allow evaporation of both rainfall and naturally occurring condensation.
In normal circumstances, I would recommend a "breathable" material for any caravan full cover, but top covers are completely different & the use of a fully waterproof cover is absolutely the way to go.
This is purely because it is only a top cover & so any condensation build up on the roof of the caravan evaporates away with any breeze flowing around & under the sides of the top cover. Remember though these covers are not as good as full covers in extremely windy conditions.

How Much ?
There are various sizes available, ranging from covers to fit caravans up to 4.1m (14 ft), right up to covers for 7.4m (25ft) caravans.
Maypole have 6 sizes of top covers covering all of the above size range.
Prices start around £45/£50 for the 4.1m rising to £80+ for the largest 7.4m cover.
Explorer Deluxe have a 6 sizes covering the size range from 4.1m to 7.4m
Prices start around £ 75 for the small version rising to £ 125 for the largest cover.
Proplus have 7 sizes of top covers from 5m upto 8m in length.
Prices start around £110 for the small version rising to £150 for the largest 8m cover
Great deals online for

Caravan Top Covers

– click the link below  :
So Would I Buy One ?
Simple answer YES absolutely.
I have a large motorhome & it would be impractical to have a top cover, for various reasons. I therefore have no option other than to periodically clean the entire roof. It is an absolute bind of a job. It takes an age to complete the roof section to get rid of all the muck, bird mess, sap, leaves & mold etc. After the roof is finished, then all of the sides of the van are trashed by the filthy water running off & so the entire motorhome has to be washed.
To simply be able to whip a top cover off & have a clean shiny roof, then clean the top cover at my leisure on the ground, would make total sense to me.
For most people the layout of around £100 for a top cover would be  money very well spent.