There is a very wide choice of motorhome levelling ramps on the market today.
You need to think about your own particular vehicle & the type of touring that you do.
Why Do I Need Levelling Ramps ?
Levelling Ramps are an absolute MUST have accessory for any Motorhome or caravan. Sleeping on an angle, even though quite small, gets very annoying, very quickly. As does having the basin & sink not draining away properly & especially the shower tray, as a lot of motorhomes have a single shower drain.
Fridges, especially 3 way, ie 240 volt, 12 volt & gas work at their best when level. They do not like being at an angle.
So which motorhome levelling ramps do I need?
I have 2 sets of ramps, 1 small set, 1 standard triple stage set & I would not go touring without them. I equally have a lot of storage space, in my Burstner 747.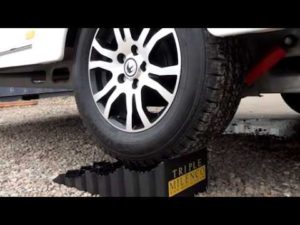 You want to think of the size & weight of your motorhome, as well as your "normal camping pitch". If you often use club sites for example, then as they are relatively flat, a small set of ramps would be ideal. If not then you might want to go with a larger set, to get the maximum lift possible.
There are some unbranded ramps available online that come in the two standard size.
These do come in a bit cheaper than the rest & would be okay, but you do have to be careful though, because some of these ramps are made of a harder, more brittle plastic.
If the ground underneath the ramp is uneven & the ramp base is not fully sharing the weight of the motorhome across the entire ramp, the cheap ramp can easily crack!
There is a wide choice online & you will be able to get exactly what you need by clicking on either of these platforms.
Levelling Ramps Are Not All The Same.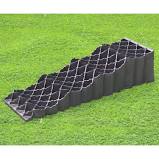 No they are not. So lets have a look at the different ramps available.
Milenco who are the market leaders have a wide range of levelling ramps.
This massive set of ramps " Quatro" with 4 stage lift heights are 81cm long & 21cm high.
You need a reasonable storage area just to stow them. They have a 6 ton capacity.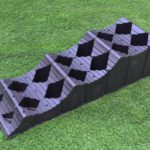 They also have a 3 stage version "Trident" at 20cm high & "Triple 2" at 18cm high. All of these ramps are 6 ton capacity.
The range continues with the MGI T3 & the MGI T2, with lift heights of 22cm & 18cm respectively.
Again both have a 6 ton capacity. The mini TG1 measures 43cm long , with a lift height of 11cm & a capacity of 5 tons.
The MGI Wedge measures in at 46cm length & 11cm lift height, with a capacity of 4 tons.
All of these ramps have a heavy tred, they are very good quality & priced accordingly.
Great deals online for Milenco Levellers

– click on the link below :
This Froli

set are 59 cm long & are 13 cm in total height, but with an actual lift height of 10cm,
the heighest point is to stop the road wheels at the top of the leveller.
The tred pattern is good & allows any water & mud on the tyres to fall through the holes.
The handy bag is great for stowing the ramps when not in use.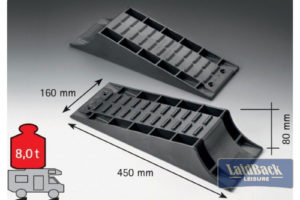 The set pictured right are again made by Froli & although they are short at 45cm, this of course though makes for easy stowage & have a lift height of  80cm.
Amazingly they have a massive 8 ton capacity, which would be more than enough for all but the biggest & heaviest RV's.
The curved cut out is special to this model. The ramps have been designed for all motorhomes but especially for use on tag axle motorhomes, where the ramps can be slid between the 2 rear axles.
Great deals online for Frolli Levellers

– click on the link below :
Fiamma make a similar sized ramp, with an 8 ton capacity & again it is a good quality ramp.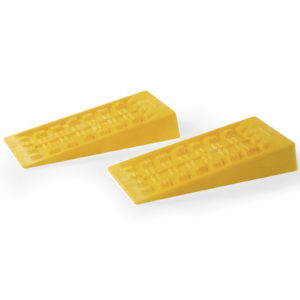 They have a thick heavy tred pattern that provides excellent grip for the tyres, even in the wet.
They are made of a thick but slightly flexible ( if your a Gorilla !) plastic & so they really won't suffer from cracking. These ramps have a maximum height of 8 cm.
I personally have a set of these & they have served me very well over the years.
Fiamma also have the same ramp in Grey, but this is a 5 ton capacity ramp.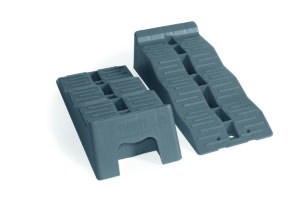 Within the range they also have a 3 stage ramps similar to the the Froli ramps featured above.
The "Level Up" again in Grey with a 5 ton capacity & has lift heights of 4cm – 7cm & 10cm for the 3 stages, with a total height of 13cm
The "Jumbo" ramps, are a 2 stage ramps &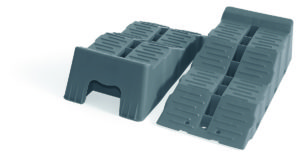 have an 8 ton capacity. they have lift heights of 6cm & 11cm for the 2 stages, with a total height of 14cm.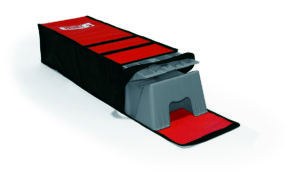 Great deals Online for Fiamma Levellers

– click on the link below :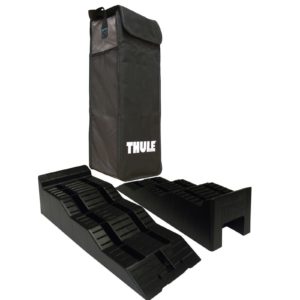 Thule

make a similar ramp to the Froli 3 stage set above, but with a different tred pattern.
These have the standard 13cm lift height.
This is the only levelling ramp set that they do. These ramps have a 5 ton capacity.
It comes down to personal preference. For me, I like a heavy tred, to give good tyre grip, especially when wet.
They also come with a smart storage bag.
Great deals online for Thule Levellers

– click on the link below  :
Kampa

also make a 3 stage leveller, similar in size, but with a lift height of 11.5cm.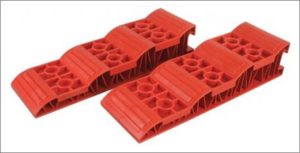 These ramps have a very different tred design.
They do only have a capacity of 1.25 tons.
Kampa also have a small set of levellers that are similar to both Froli & Fiamma, with a lift height of 7.3cm & a 3 ton capacity.
Great deals online for Kampa Levellers

– click on the link below  :

How Much ?
You can get some great deals online & so motorhome levelling ramps should cost;
£20.00 or less for the smaller ramps
£25.00 to £ 35.00 for the standard size 3 stage lift ramps
£50.00 upwards for the large Milenco Quad 4 stage lift ramps
TIP – A very useful & cheap accessory to buy is a spirit level, so that you can actually see when the motorhome is level
Are They Worth It ?
This is a 100% YES. Not only are they worth it, they are a cheap accessory when you consider the brilliant job that they do. It is not the norm to get an absolutely flat pitch & so the levelling ramps are used a lot, virtually at every pitch you use.
As I said at the begining of this article, sleeping on an angle gets very annoying, very quickly.
Quick Tip – Always remember to set up the levelling ramps before you put out your awning & awning carpet.
SAFETY NOTE– I do not like & DO NOT recommend any motor home levelling ramp that has "wheel chocks" that hook into the ramp once the motorhome is in place.
In normal circumstances the vehicle will always drop back a small ammount from when first put onto the levelling ramps & so the chock is under a lot of load & cannot be removed.
The motorhome has to be driven further forward to take the weight off the chock to be able to remove it. Then you physically have to put your hand in behind the wheel to remove the chock.
This is the LAST thing that you want to be doing!
If you where at the very top of the ramp to begin with, to get the weight off the chock there is a serious possiblity of the motorhome falling over the top face of the ramp. As it does so the ramps can tip up & be damaged, especially if it gets caught in the wheel well.
Quick Note on Cheap Ramps
The problem with cheap ramps is if the sloping ground  for the pitch is for example hard core, concrete or tarmac then the harder plastic ramps can slip down the slope as the weight of the vehicle comes onto them. This can especially happen when the surface is wet.
I did see a motorhome tyre grip the ramp, the ramp slipped & the rotating tyre shot the ramp out under the motorhome.
How to use levelling ramps ;
Top Tip for Tag Axles ;
Do not leave your motorhome with only 1 of the tag axles on a levelling ramp, especially if you need to use the top of a three stage lifting ramp. You are obviously putting much more of the motorhome weight onto just 1 axle. Always use 2 levelling ramps & pick up both rear axles. As explained earlier Froli make an 8 ton leveller whichis specially designed for tag axles.
If you are using standard levelling ramps, simply place a ramp ih the normal way in front of the 1st axle & place the 2nd ramp in front of the first. Then drive forward completely over the first levelling ramp & onto the second. You now have a ramp under each axle & you can now move the motorhome forward to set the height that you need.